PepsiCo poured on the heat with a challenging case. MBA students from 13 schools across the country answered with refreshing ideas.
October 22, 2019
By Elaine Cole
At TCU, PepsiCo executives got a first-hand look at top MBA students as they competed in the fifth annual PepsiCo MBA Invitational Business Case Competition.  
MBA students from 13 universities were randomly assigned to eight mixed teams, each team member from a different school, on Friday evening. Saturday morning they received the case from PepsiCo.
Their challenge: review, discuss and provide solutions for maximizing revenues surrounding Super Bowl week, using their MBA skills and knowledge with teammates they had just met.
Teams worked on the case for five hours and then presented their solutions to PepsiCo executives. They were judged on the strength of their case and their presentation.
First Place of $7,000 was awarded to the winning team of Max Rogers of the TCU Neeley School of Business, Brian O'Bannon of UNC Kenan-Flagler Business School, Xin Huang of University of Washington Foster School of Business, and Steve Boland of the Michigan Ross School of Business.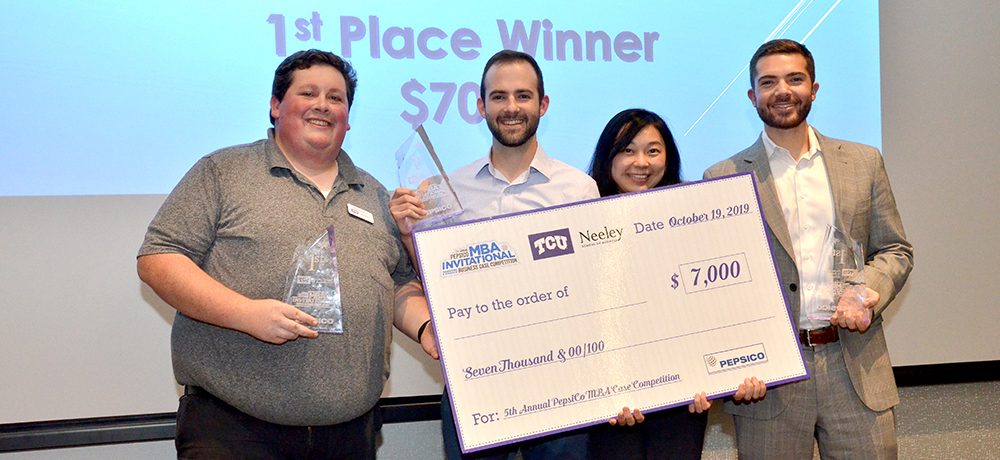 Second Place and $5,000 was awarded to Neal Tan of Columbia Business School, Sullivan Franklin-Mitchell of SMU Cox School of Business, Ryan Winn of TCU Neeley, and Shirley Zhao of Cornell SC Johnson College of Business.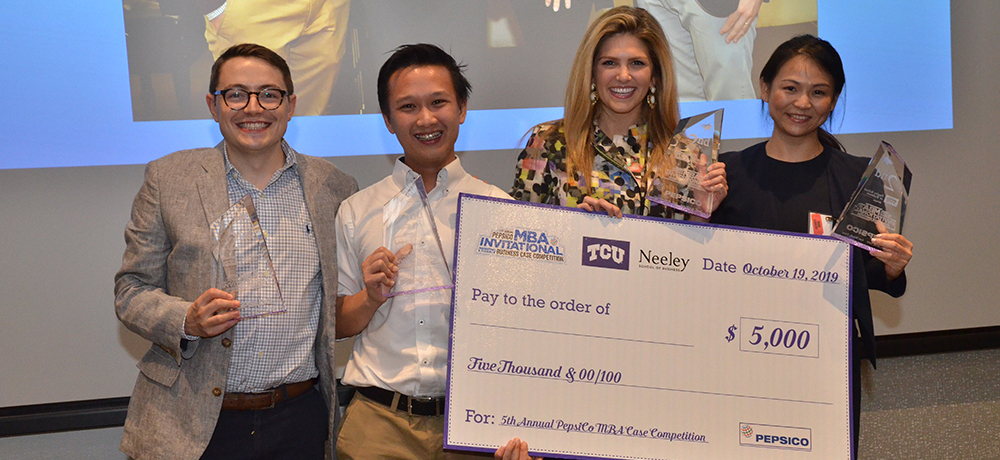 Third Place and $3,000 was awarded to Cody Morsching of TCU Neeley, Alyssa Indenbaum of Michigan Ross, Ashley Hall of Cornell Johnson, and Manu Vaish of NYU Stern School of Business.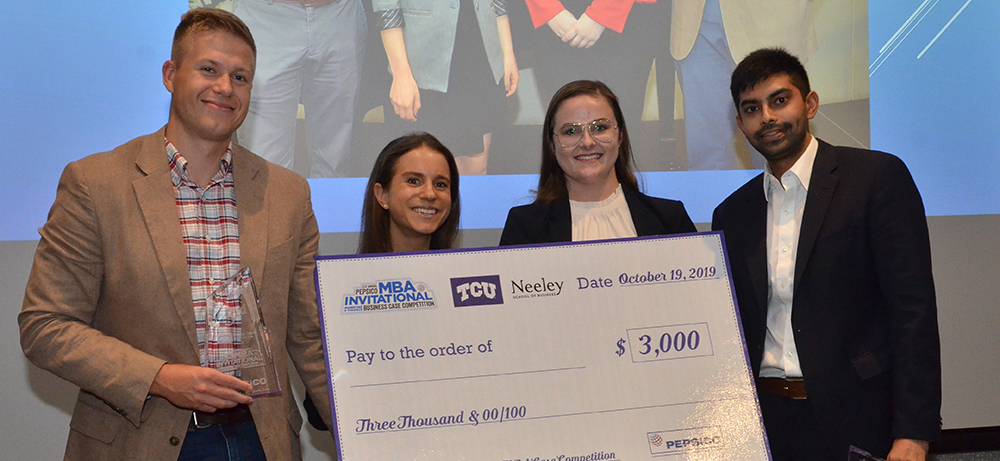 Judging the competition were: Ralph Goedderz (TCU MBA '97), CFO and vice president of global information technology for PepsiCo; Jim Hathaway, vice president of financial planning and analysis for Frito-Lay North America; Melissa McIntyre (TCU MBA '08), strategic insights marketing director for Lay's and Ruffles; Rich Blazevich, senior director of marketing for PepsiCo; and Anthony Moon, senior director of global procurement for PepsiCo. 
This is the fifth year for the PepsiCo MBA Invitational Case Competition at TCU, made possible by a partnership between TCU Neeley and PepsiCo, one of the world's leading food and beverage companies with brands including Pepsi, Lay's, Tropicana, Quaker and Gatorade, and products sold in more than 200 countries and territories around the world.
Participating schools for 2019 were:
Columbia University, Columbia Business School
Cornell University, SC Johnson College of Business
Ohio State University, Fisher College of Business
Michigan University, Ross School of Business
New York University, Stern School of Business
Rice University, Jones Graduate School of Business
Southern Methodist University, Cox School of Business
Texas Christian University, Neeley School of Business
University North Carolina, Kenan-Flagler Business School
University of Washington, Foster School of Business
Vanderbilt University, Owen Graduate School of Management
Washington University in St. Louis, Olin Business School
Yale University, Yale School of Management