With platinum partner Esri and case provider American Airlines, graduate supply chain students from 19 universities proved their innovation to global industry leaders.
February 24, 2022
By Erin Smutz
The Center for Supply Chain Innovation at the TCU Neeley School of Business partnered with Esri and American Airlines for an intense competition February 3-5 that resulted in $30,000 awarded to the top four teams out of 19. Graduate supply chain students from across the country competed in the sixth annual TCU Graduate Supply Chain Case Competition, showcasing their skills and ideas to impressive supply chain executives and industry thought leaders.
American Airlines worked alongside Dr. Cliff Defee, associate professor of professional practice in supply chain management at TCU Neeley, and Cindy Elliot, Esri head of global commercial industry strategy, developing a case to determine an inventory strategy for stocking repair parts for the Boeing 787 fleet at airports across the company's U.S. network. The teams worked with data covering more than 2,600 rotable and repair parts at 26 airports and maintenance locations with a value in the hundreds of millions of dollars.
"This is our fourth year as the exclusive platinum partner for TCU's Graduate Supply Chain Case Competition, and the competition continues to create a unique venue where student teams are challenged to use technology coupled with their own experiences to solve real-world supply chain problems," Elliot said. "Esri is committed to working with higher education institutions to create innovative learning environments and expose top graduate students to the value of applying geospatial thinking in addressing the emerging business, environmental and social challenges within the global supply chain ecosystem."
To account for weather and travel delays for some, the teams had an unconventional 26 hours to receive and review the case, brainstorm ideas, and then showcase their skills as they pitched their solutions to supply chain industry leaders from major global corporations who judged the competition.
"This year's teams showed great talent, professionalism and flexibility," said Morgan Swink, executive director of the TCU Neeley Center for Supply Chain Innovation. "Due to inclement weather conditions, we had to pivot the competition to a hybrid format yet the teams pushed pass the obstacles in order to pave the way for a successful result."
After presenting their innovative solutions before a panel of judges, the Iowa State University team won first place and a cash prize of $12,000.
Henrik Sternberg, assistant professor of supply chain management at Iowa State University and team faculty adviser, shared his insight into the experience and his team's approach to the case.
"TCU's case competition is based on multi-faceted real problems from real companies. It challenges the students to think both in terms of strategy and operations, which makes it very realistic and highly challenging," Sternberg said. "I am proud of how well the Cyclones worked together as a team, using each member's talent and strengths, and communicating their analysis of the case."
Craig Harry, managing director of technical operations supply chain at American Airlines, provided the case content and found great value in the students' proposed solutions.
"It was helpful to use this competition as an opportunity to test our own assumptions and explore strategies we may have overlooked at our company," Harry said. "Students' outside-the-box thinking may raise potential solutions that we haven't considered and their approach to problem solving helps us ensure we're developing this capability on our own team."
"TCU Neeley curates experiential learning opportunities such as this case competition to bring together the best and brightest minds to shape the global practice of business," said Daniel Pullin, the John V. Roach Dean of the TCU Neeley School of Business. "Our annual supply chain competition challenges students to build their capacity to innovate in the industry and the world, tackling complex, relevant issues companies face every day."
"Committed provision of resources and access to experiential GIS learning opportunities in student experiences like this competition, are critical to equip tomorrow's leaders to help solve the diverse set of challenges the future will undoubtedly bring," said Clinton Johnson, founder of NorthStar of GIS. "Our organization works to create a more racially-just world through a more racially-just GIS. We know the world's problems can be solved with the help and inclusion of the work and innovations of the underrepresented. We look forward to continued support of TCU Neeley as we work to create more space and opportunity for equitable representation of the full breadth of humanity in the supply chain industry."
2022 Winners
First Place $12,000 – Iowa State University
Team Partner – NorthStar of GIS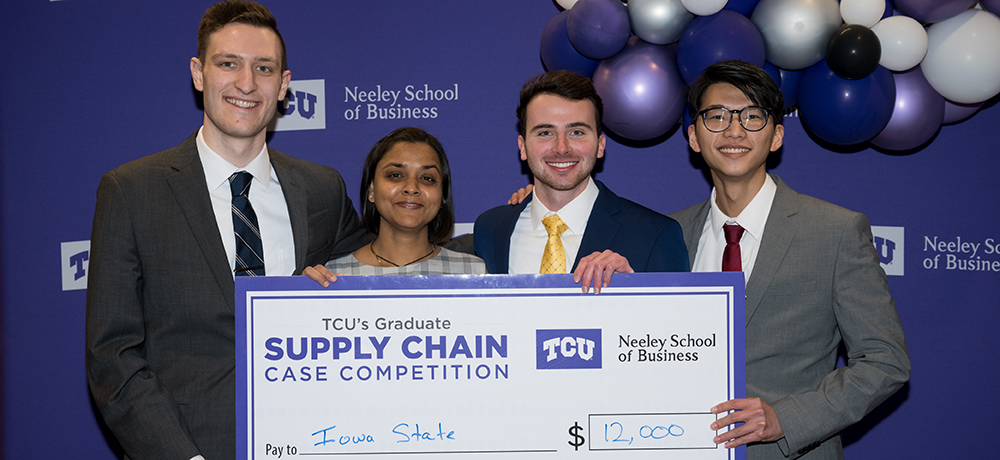 Second Place $8,000 – University of Michigan
Team Partner – Corning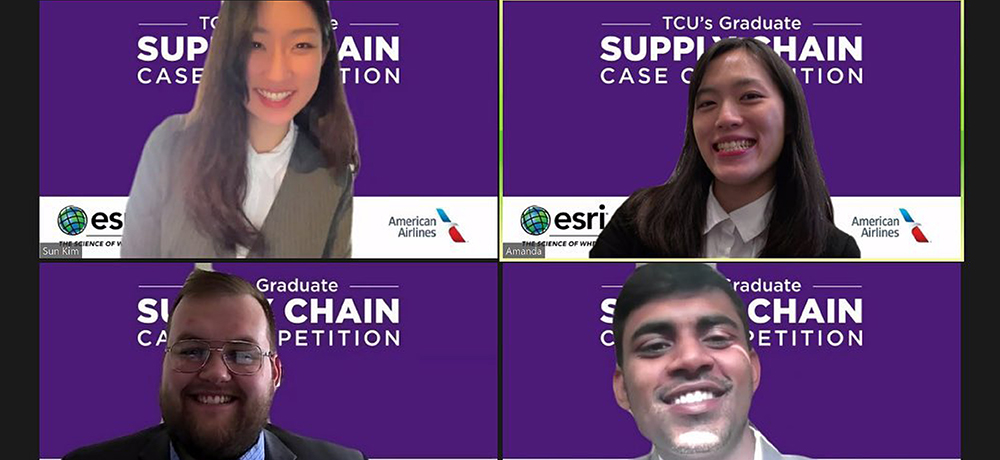 Third Place $6,000 – Saint Louis University
Team Partner – Hire Dynamics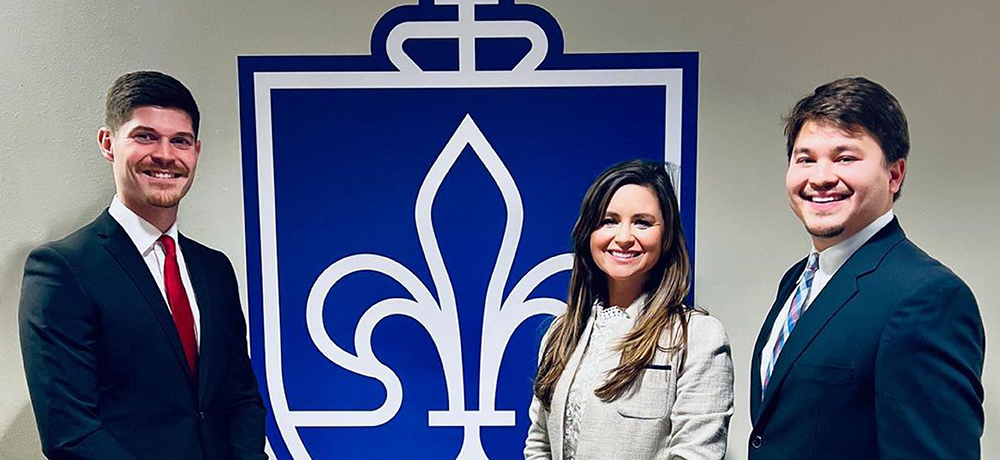 Fourth Place $4,000 – Brigham Young University
Team Partner – Pegasus Logistics
Fifth Place – University of Wisconsin – Madison
Team Partner – Andrews Tools Company
2022 Graduate Supply Chain Teams
Brigham Young University
Georgia Institute of Technology
Iowa State University
Lehigh University
Massachusetts Institute of Technology
Michigan State University
Rutgers Business School
Saint Louis University
Texas Christian University
University of Arkansas
University of Michigan
University of Pittsburgh
University of South Carolina
University of Southern California
University of Texas at Dallas
University of Washington
University of Wisconsin, Madison
Washington University
Wayne State University
2022 Partners
Platinum Partner: Esri
Case Content Provider: American Airlines
Gold Partner: Hire Dynamics
Silver Partners: Kinaxis and Trident Transportation
Bronze Partners: H-E-B and Raising Cane's Chicken Fingers
Team and Competition Partners: Andrews Tools Company, Belmar Integrated Logistics, BNSF Railway, Central Market, Corning, Dunaway, Frito-Lay, HAVI, Knight Transportation, M.L. Leddy's, NorthStar of GIS, Pegasus Logistics and Shoppa's Material Handling