Leite, CEO of The Vitamin Shoppe, talked about power of being customer-obsessed, choosing culture over climbing the corporate ladder, focusing on the "why," and mentoring TCU students.
September 23, 2019
By Elaine Cole
As the sun rose over the TCU campus, 275 business professionals and students sat down for breakfast with Dean Daniel Pullin and his guest, Sharon Leite, CEO of The Vitamin Shoppe, for the Tandy Executive Speaker Series. 
Leite is leading the turnaround and reinvention of The Vitamin Shoppe as it becomes a multi-channel retailer in health and wellness with over 750 stores and an e-commerce business. Prior to The Vitamin Shoppe, she was president of the Americas for Godiva Chocolatier, president of Sally Beauty (US and Canada), and spent over eight years at Pier 1 Imports as the EVP of sales, digital, customer experience and real estate. She has held leadership roles at Bath and Body Works, Gap Inc. and The Walt Disney Company. She is a member of the board of the TCU Neeley School of Business.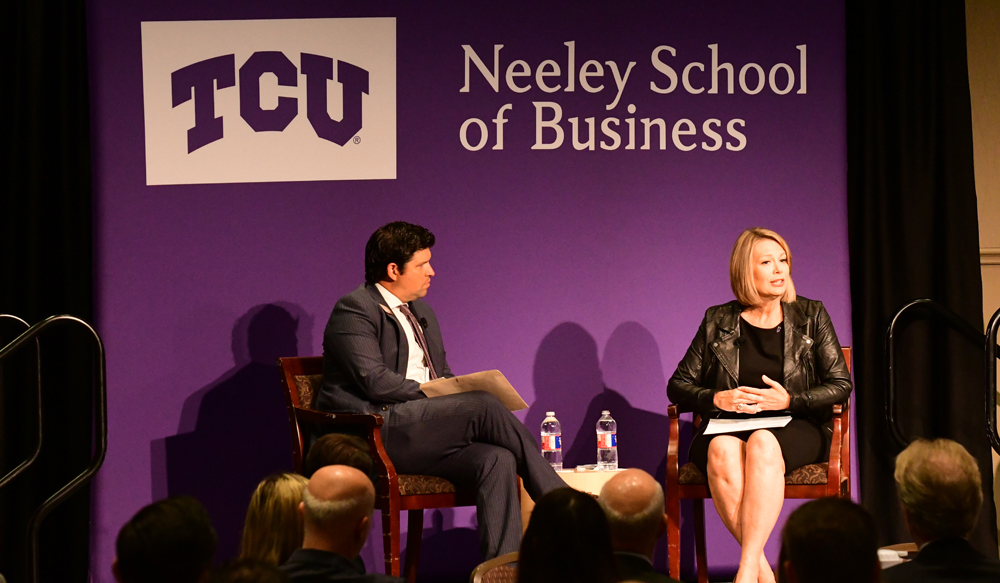 Leite told the crowd that she is customer-obsessed. 
"To succeed today you have to understand your customer – who they are and what they want – and the only way to do that is with fantastic data and data analytics," she said. "It's amazing how many businesses today don't ask their customer what they want. If you don't know your customer then how can you figure out the tactics, activity and engagement you want to have with your customer?"
Leite also emphasized that, "for brands, it is important to know who you are, but also who you aren't."
She talked about her career, having the courage to choose culture and challenge herself, to go backward in order to go forward, and the importance of taking risks to grow and have agility in your career.
Leite said that, as a leader, she focuses on the "why" and "how" before addressing the "what," to give her team the context and understanding to executing the "what" in a way that is right for the organization.
Leite answered questions posed by Daniel Pullin, the John V. Roach Dean of the TCU Neeley School of Business, from bone density to the density of insights. She also answered questions from the audience, a mix of business leaders and students.
"I think it's important for people in the business community who have had success, have had some trials and tribulations, to teach and coach people. I love the opportunity to help others," she said. "I get inspired by our students and what they think and what's important to them. As somebody who is obsessed with the customer, it's another way to learn and for the business leaders in this room to leverage these incredible students and educators in Fort Worth to the benefit of the larger community and our future leaders." 
The Tandy Executive Speaker Series is TCU Neeley's premier event for DFW business professionals. 
Sponsors are: Frost (exclusive platinum sponsor). Fort Worth Business Press (gold). Linbeck and Balcom Agency (silver). Acme Brick, Byrne Construction Services, Dunaway, Gensler and McDonald Sanders (bronze). 
Click here to watch/listen to Leite's entire conversation with Pullin from September 12, 2019.