With platinum partner Esri and case provider BNSF Railway, graduate supply chain students from 18 universities proved their innovation to industry leaders.
February 24, 2021
By Erin Smutz
TCU Neeley's Center for Supply Chain Innovation partnered with Esri and BNSF Railway for an intense 24-hour competition February 19-20 that resulted in $20,000 awarded to the top five teams out of 18. Graduate supply chain students from across the country met online for the fifth annual TCU Graduate Supply Chain Case Competition to showcase their skills and ideas to impressive supply chain executives.
BSNF Railway worked alongside Dr. Cliff Defee, associate professor of professional practice in supply chain management at TCU Neeley, and Cindy Elliot, Esri head of global commercial industry strategy, to develop a case addressing the challenges of choosing the location for a new logistics center to increase industry coverage while benefitting the surrounding community. The teams had to address one of three scenarios – field crop distribution, create a better energy infrastructure, or expand current housing and roadway frameworks.
The teams had 24 hours to receive and review the case, brainstorm ideas, and then showcase their skills as they pitched their solutions to 44 supply chain industry leaders from major global corporations who judged the competition.
"We were impressed by the talent and professionalism of this year's teams," said Dr. Morgan Swink, executive director of the Center for Supply Chain Innovation at TCU Neeley. "Even though we hosted our competition virtually, top graduate supply chain students across the nation stepped up to the challenge and delivered innovative solutions."
"This is our third year as the exclusive platinum partner for TCU's Graduate Supply Chain Case Competition, and this year's challenge was even more compelling due to the pandemic and teams working together in a virtual environment," Elliot said. "These are some of the brightest graduate students and we were inspired by their compassion, vision and ability to bring new energy to supply chain challenges."
"We were honored to partner with the TCU Neeley Center for Supply Chain Innovation and introduce these incredibly talented students to an unfamiliar yet exciting aspect of the railroad industry," said Alec Vincent, BNSF Railway's assistant vice president for fuel management and strategic sourcing.
2021 Winners
First Place $10,000 – Brigham Young University
Team Partner – Raising Cane's Chicken Fingers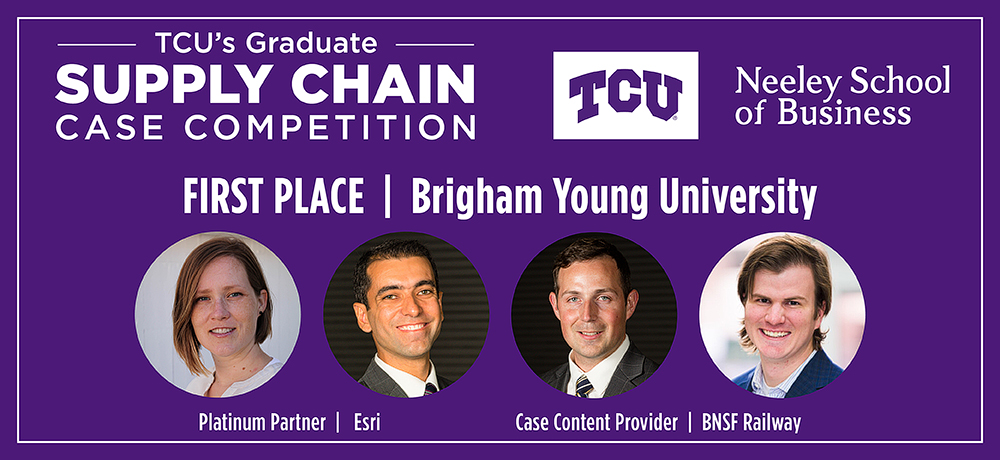 Second Place $5,000 – Michigan State University
Team Partner – Raytheon Technologies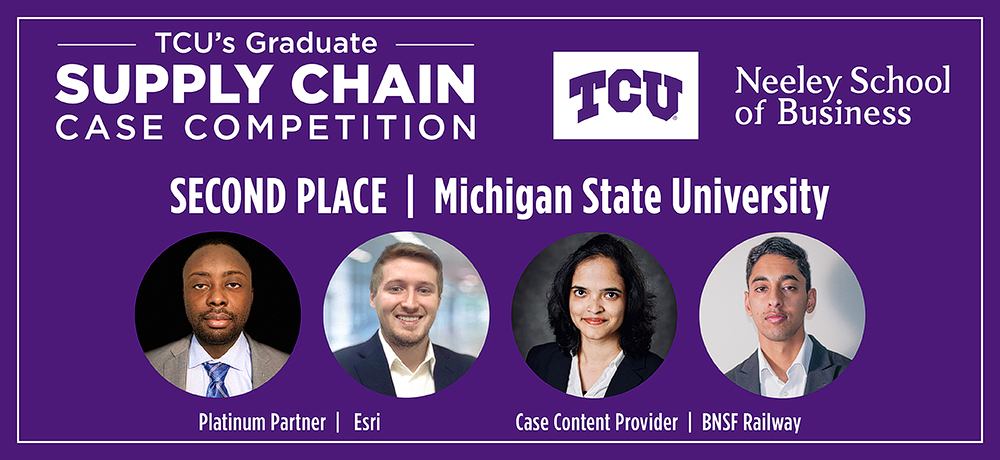 Third Place $3,000 – Texas Christian University  
Team Partner – Andrews Tool Company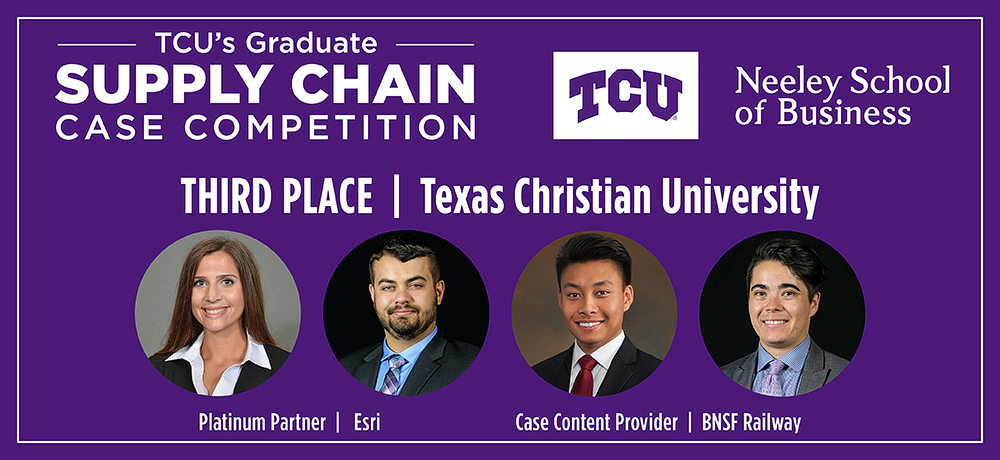 Fourth Place $1,500 – Western University
Team Partner – Kinaxis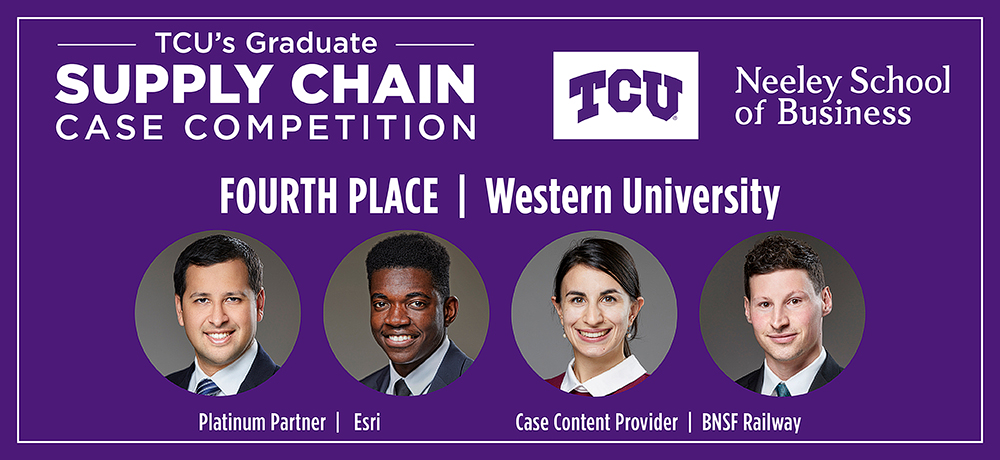 Fifth Place – University of Pittsburgh
Team Partner – RGP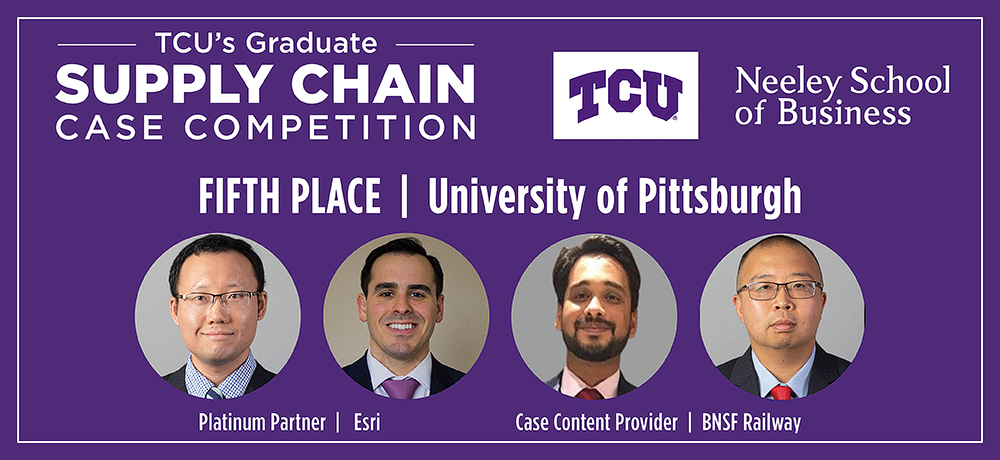 "The relevance of supply chain has never been stronger than it is today. At our annual competition, graduate supply chain students build their capacity to innovate not only in the industry, but in the world, as they tackle a real, complex issue. At TCU Neeley, we host and curate experiential learning opportunities such as this to bring together the best and brightest minds to shape the global practice of business," said Daniel Pullin, the John V. Roach Dean of the Neeley School of Business.
2021 Graduate Supply Chain Teams
Arizona State University
Brigham Young University
Georgia Tech
Iowa State University
Massachusetts Institute of Technology
Michigan State University
Ohio State University
Rutgers University
Saint Louis University
Texas Christian University
University of Arkansas
University of Michigan
University of Pittsburgh
University of Tennessee
University of Washington
University of Wisconsin, Madison
Wayne State University
Western University
2021 Partners
Platinum Partner: Esri 
Case Content Provider: BNSF Railway
Gold Partner: Kinaxis
Silver Partner: Lockheed Martin
Competition Partners: American Airlines, Andrews Tools Company, Belmar Integrated Logistics, Corning, Council of Supply Chain Management Professionals (CSCMP), Direct Relief, Discover, Dunaway, Frito-Lay, Hillwood, Institute for Supply Management (ISM), Pegasus Logistics Group, Raising Cane's Chicken Fingers, Raytheon Technologies, RGP, Shoppa's Material Handling, Toyota and TTI.