Every preview luncheon features a panel of alumni who offer their personal insight into the benefits, challenges and experience of the TCU Neeley Executive MBA program. Here are some of our favorite soundbites from the April 5 luncheon.
April 20, 2018
Every preview luncheon features a panel of alumni who offer their personal insight into the benefits, challenges and experience of the TCU Neeley Executive MBA program. Here are some of our favorite soundbites from the April 5 luncheon.
The Panel
Jarie Bradley '15
Chief People Officer, City Square 
Ten years after earning her undergrad, Jarie had recently shifted from an internal HR position in banking to workforce development in the nonprofit sector. When her organization's budget and team doubled in a few short years and she began transitioning into executive leadership, she knew it was the right time to invest in herself and take it to the next level.
Kim Speairs '14
Director of Communications and Engagement, PCCA
After spending nearly 20 years in marketing in the same kind of position at Balcom Agency, Kim was looking for a spark, for ways to grow herself and the company. Skills she learned in the EMBA program eventually led to a permanent position with one of her clients.
Erik Johansson '13
Finance Director, Flowserve Corporation
Erik always planned on getting his MBA. An expat from Sweden contracted to work for Flowserve, it was even a part of his contract. But it wasn't until he noticed that his company wasn't as competitive as it could be that his sportsman's nature took over and he "got his act together" to pursue his MBA.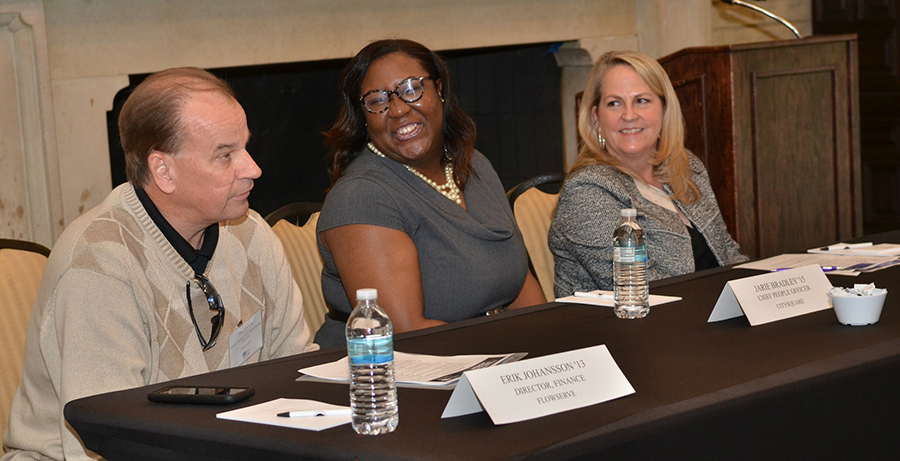 ON TRANSFORMING AS A LEADER 
ERIK
I'm the finance guy, the bean counter; that's my background. But with this education, I've become more strategic. I learned about myself, to focus on my strengths and also know my weaknesses, and either delegate them to someone on my team, or improve. That was a major change, I learned a lot about who I really was.
JARIE
I'm a more integrated, holistic leader. I had been compartmentalizing parts of myself, not bringing my whole self to work. And I found, through the coaching, through the assessments, through the tools, to not only be a more strategic leader, but also to be more authentic. That helps me better serve my team, my peers, our organization – even our business partners. It really opened me up in a way that I didn't realize I could open up. And it really did prepare me to be a better servant leader. So I'm really proud of that.
KIM
When you start the program, you get a 360-degree assessment. I don't know how many of you have done that before, but being in a small company, I never had the chance. So right from the beginning you start identifying what are your areas of strength and weakness. So while I had been leading teams for a long time, when you actually see it on paper, here are some areas you've got to work on, it really shows you where to focus. And for me, I realized it was really building confidence, being able to take risks with less fear. And I think it's one of those intangibles that makes a huge difference. 
ON FORMING CONNECTIONS
JARIE
I have lifelong friends I wouldn't have had otherwise. You have three rotations of groups, so it's interesting, the bonds you form with those people in those groups. You're spending so much time with them, learning about them, learning about yourself. We found ways to leverage our strengths and our relationships. And these are real relationships. We still talk multiple times per day. I have friends that are in other programs across the country – one who's in the program at Notre Dame right now – and nobody has the same connectedness with their classmates that I do.
ERIK
Class size was one of the reasons I chose TCU. I learned once upon a time in ninth grade in Sweden, how it works when the classroom environment goes from 15 to 30 kids, how people interact, how they open up. It really makes you come close together. It's the same with the group project work. You're forced to work together and find solutions. And that the groups change and you can't choose who you get, that is real life. That's like ice hockey; there are some people I hate on my team, but I still play with them; you have to find a solution, and that's what you have to do here. With different personalities and backgrounds, there are some clashes, but in the end, you learn to work with them.
KIM
You form these strong connections, not only within your class, but with the other class alums, and not only for students, but your spouses, your children. One of my best friends is the wife of one of my classmates. It all kind of connects. Personally, the connections are one of the biggest things I took from the program. Three months into the program, I was diagnosed with cancer. And kind of went through the question of, do I continue with the program? But if you want to look at a group rallying around you, this was the group that did. My family didn't live in Fort Worth; they live in St. Louis. But this became my family, cheering me on. When I came back from my first chemo treatment, everyone in class was wearing pink shirts. And that kind of support, you're not going to get anywhere else. 
ON RETURN ON INVESTMENT
ERIK
For me, I made the right choice. Examples like, with the global stuff. I was clearly the most global guy there with this class; I've worked internationally since '89. Been around the world, a true Viking. But actually, the global part of the program, I got great benefits out of it. We went to Brazil, Argentina and Chile, and I had kind of been pushing my company do more localized business there. So I took the opportunity to create a project around the trip for my business, and utilize my team on the visits.
JARIE
Number one, I received a promotion nine months into program. So that was pretty awesome. And that was due to one of the strategy projects I had within the program. Also, I became great friends with my coach, a fabulous lady by the name of Paulette. She walked me through my 360 evaluation and really got me to own my stuff, and helped me transform as a leader. And she facilitates leadership cohorts for the City of Fort Worth, and ended up seeing my boss at a function, and she told my boss, "You did right by promoting her. Make sure you take care of her." It's so funny, she's such a small but mighty lady, and my boss is still like, "I'll never forget what Paulette told me about you." So the program has all types of spillover effects. I will never regret the time I have spent.
KIM
There are so many times that we took the tools back to work. For me personally, when I started the program, I had no intention of leaving Balcom, but you start discovering things about yourself that open up new opportunities. I really ignited a passion for transformational leadership and understanding change management and how that all works together. And that evolved into this new position I have now. So to be able to explore something I never thought I would have before, was incredible. And then the other immeasurable return on investment is just what you give back to your family. I'm a single mom, so it was a hard decision going in. How are you going to take care of the kids? But I think the main takeaway was they could see me persevere, and know if Mom can do it, that they can do it. 
The panel shared much more insight that we didn't list here. Join us for the next preview luncheon and don't miss a word.
This panel discussion followed an engaging talk by Dr. Rita Kosnik on negotiating success – and getting your family and employer to buy in to the program. Read the recap from her previous talk here.