Every preview luncheon features a panel of alumni who offer their personal insight into the benefits, challenges and experience of the TCU Neeley Executive MBA program. Here are some of our favorite soundbites from the June 7 luncheon.
July 26, 2017
Every preview luncheon features a panel of alumni who offer their personal insight into the benefits, challenges and experience of the TCU Neeley Executive MBA program. Here are some of our favorite soundbites from the June 7 luncheon.
The panel
Zach Fullerton, '12
Interim Treasury Manager, TGP Global
Zach always valued education, and debated entering the program for years before finally realizing the timing was now.
Matt Houston, '14
Principal/Management Consultant, MLH Enterprises
Chief of Staff, BEAM
As a serial entrepreneur, Matt realized he needed more institutional knowledge to deal with the corporations who were buying his startups.
George Havrilla, '17
Project Lead, Bell Helicopter
Wanting to expand his strengths beyond engineering, George explored several local EMBA programs and chose Neeley for the focus on personal connection and strategic leadership.
Jamie Timmons, CPA, '14
Vice President, First Command Financial Services
A single mother of two and a CPA leading two accounting teams, Jamie struggled to find the right time for an EMBA program, but discovered that when she made the time, the 18 months flew by.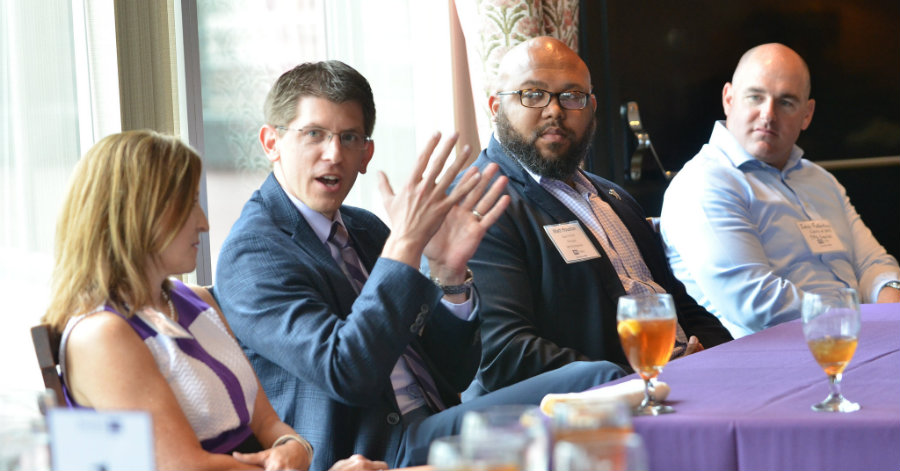 ON LEADERSHIP DEVELOPMENT
JAMIE
"The coaching was awesome. I had Brooke O'Shea. That one-on-one time – you get more strategic, more visionary, not just in the weeds of your expertise area, but on a completely different level. And the more you put in, the more you get out. I still touch base with my coach."
GEORGE
"Through the agile leadership focus, I learned how to pivot my leadership style when dealing with different groups, how to approach them, influence them. Then your coach provides accountability, challenging you to be a better version of yourself."
MATT
"Leadership development is an invaluable aspect of this EMBA program. Next to strategy, by far the most important thing. I have Paulette for my coach, she's a former IBMer, and she brings all this experience, patience and drive to make you a better leader and person. You see that for years after graduation, not just year one and year two, but three, four, five."
ZACH
"The coach is a powerful tool. Here's a person truly invested in your success, but who has no personal connection to you – like, say, your spouse does – so they're not afraid to tell you when you're outside the lines. I'm still in touch with my coach, Brooke, as well. That independent feedback and guidance is invaluable."
ON PEER LEARNING
MATT
"The team learning is invaluable to expose blind spots, realize hidden strengths. You're dealing with four or five individuals, doing the same coursework, but with different personalities. It's the perfect incubator. You get placed in a new team every six months, and at the end of your shift with each team, you get feedback on your strengths and weaknesses, so you can improve yourself for the next team. You get three cycles of perfecting your skillsets and building relationships."
GEORGE
"One big attraction of the EMBA program is that you're sitting in a room with seasoned professionals. I had sat in on the Professional MBA program, which targets mid-career level professionals, but I felt like I was the most experienced person in the room. Whereas in the EMBA program, I felt I would grow." 
JAMIE
"As an undergrad, I hated team work, because you couldn't rely on everybody. That's not how it is in the EMBA program. They're all over-achievers."
ZACH
"Everyone in this room is driven. You wouldn't be here if you weren't interested in pushing yourself. Yet the competitive feeling changes over time. You're in a safe environment where you learn how to work with others effectively, and can try different things without the consequences of losing your job." 
ON GETTING A RETURN ON YOUR INVESTMENT
JAMIE
"Every class weekend, you walk away with something you use at work on Monday. For instance, in the negotiations course with Rita, you learn that everything's a negotiation. I'm still using that today." 
 GEORGE
"'Class Friday, ROI Monday' was a nice slogan I didn't really buy into – until I experienced it. I was the head of a team that had been dealing with an international transition. For months, we were struggling with direction, with lots of confusion and guesswork. The second weekend of Dr. Kosnik's class, we learned about creating a benefits chart with all the key stakeholders and inputs. I took that back to my team and after one meeting, we were up and running." 
MATT
"Before I entered the program, my company spent tens of thousands of dollars on rebranding, because another company with a similar look threatened to sue us. Later in law class, I learned they didn't really have a case; it was just a scare tactic. We could have saved that money. I did save money later with something else I learned in the program – actually saved my entire tuition amount in a single business deal."
ZACH
"Five years removed from program, I'm still getting ROI. Using those skillsets day-in and day-out. I know I can walk into any boardroom, any size company, and have the skills and confidence to deliver. The ROI really starts day one, and continues for the rest of your life." 
The panel shared much more insight that we didn't list here. Join us for the next preview luncheon and don't miss a word.
This panel discussion followed an engaging talk by Dr. LaCoste on developing agile leaders. Read that recap here.