Every preview luncheon features a panel of alumni who offer their personal insight into the benefits, challenges and experience of the Neeley Executive MBA program. Here are some of our favorite soundbites from the March 1 luncheon.
March 29, 2017
Every preview luncheon features a panel of alumni who offer their personal insight into the benefits, challenges and experience of the Neeley Executive MBA program. Here are some of our favorite soundbites from the March 1 luncheon.
The Panel
David Culler, '13
Vice President, SunSource
David was successful as an engineer, but looking for the next step into leadership.
Shannon Fletcher, '14
Chief of Staff, Tarrant County Criminal District Attorney's office
Shannon was in a good place in her career, but wanted to keep moving forward.
James "Opie" Fair, '15
Chief Operating Officer, Agile Management Enterprises
Opie's job title dropped a level after the company reorganized. He recognized he needed additional skills to move up.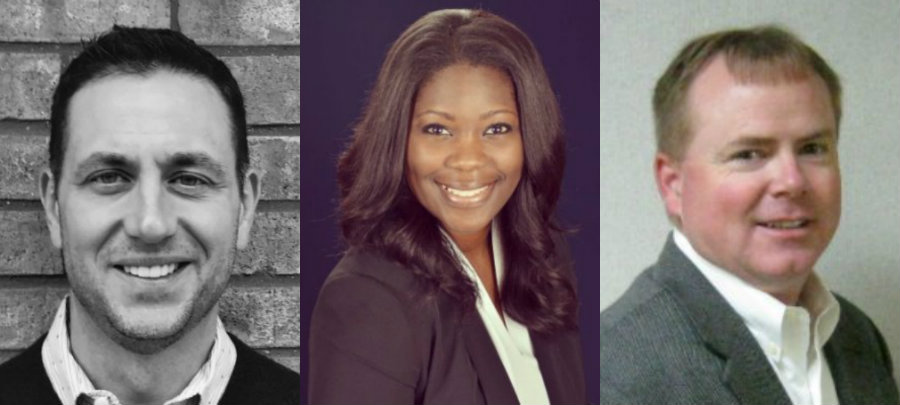 ON OPPORTUNITIES
OPIE:
"In the first part of the program, you take the 360 assessment to learn your weaknesses, then the program works to strengthen those areas. Dealing with ambiguity was my weakness, but now I deal with it all the time in mergers and acquisitions. I couldn't do this job without the program."
SHANNON:
"I had a career change after the program, becoming chief of staff for the Tarrant County Criminal District Attorney. My boss told me I wouldn't have gotten the job if it weren't for the MBA. I'm one of a team of five, and the others are all lawyers. But they look to me, because I'm the one bringing something new to the table with the MBA."
DAVID:
"In my new project, South America is part of my responsibility. Which is where we went on the study abroad trip. That played a key part in my getting the job. I could say that I had been there and visited these businesses and experienced the culture. No other candidate had that."
ON BEING CONNECTED
DAVID:
"You're joining an organization, a group, a culture at TCU. I've talked to people who graduated from other EMBA programs; they can't even tell you the names of everyone in their class. I could tell you first and last names, even spouses and kids of every one of my classmates."
SHANNON:
"I think the most underrated aspect is connectivity. You're part of something bigger than you. The TCU brand, your classmates are professionals at the top of their fields. You're paired with people who are totally different from you. And that's by design. I ended up with the perfect mix. Our different perspectives, backgrounds and industries really helped. And those are real things you can't read in a book."
OPIE:
"The first team I was on was me, Kevin Grace, Dustin Dvorak and Amy Ladd. Kevin, Dustin and I started a company together with Mike Field from the class of 2014 – Amy's with the Fort Worth PD; we'll get her eventually – but that convinced me of the most important aspects of the program. You work with three different groups, and learn different things from all of them. How to lead, how to follow. The more you work together, the better you perform, the more you learn. And you don't come to class unprepared, because you don't want to let your team down."
ON ROI
DAVID:
"The ROI is immeasurable. Yeah, it costs time and money. I'm married with two young children. How did we do it? We decided it was small investment in the long term. I was promoted twice while in the program, so I already had financial ROI by graduation."
SHANNON:
"My immediate ROI was that I was implementing on Monday changes that I learned in class over the weekend. Short term, I had a new position by April of 2015 my boss said I wouldn't have gotten if it weren't for the MBA. Long term, I keep the course material in my office, I end up pulling some of it out each week. Finance. Strategy. I'm constantly using that stuff."
OPIE:
"My ROI is I have a job today. We evaluate companies to buy or invest in, and we use the Strategy Diamond, Mullins' Model, and other frameworks taught in the program every day. We saved $90,000 on one acquisition using negotiation tactics from Rita Kosnik's course. The EMBA would be a value at twice the price."
ON CHOOSING NEELEY
SHANNON:
"I wanted the peer learning and credentialed professors, and I wanted versatility instead of one concentration in finance or law. Neeley has more of a leadership focus than other programs."
ON PREPARATION
DAVID:
"They send out this email with accounting stuff to prep for class. I thought, 'I don't know any of this. I'm toast.' The program will stretch you, but you can do it. Growth comes from being stretched."
ON FAMILY
OPIE:
"It was a family decision. My son was 6 when I started. We sat down and talked about commitment. Sometimes I would have to study even though he wanted to play. You have to negotiate study times. The program does involve your family – there's the family picnic, and my wife came to South America with us. She feels involved with program almost as much as myself."
--
The panel shared much more insight that we didn't list here. Join us for the next preview luncheon and don't miss a word.
This panel discussion followed an engaging talk by Dr. Rhodes on preventing costly mistakes in international business law. Read that recap here.