Leadership coaching is a crucial part of the Neeley Executive MBA program. For a recent preview luncheon, we brought together three of our coaches in a panel to share their insight into the program. 
October 10, 2019
The coaches panel
Sandi Mitchell
Sandi is an executive coach for Forbes Coaches Council, lead faculty for the Goldman Sachs Small Business Program, and CEO of APEX Catalyst Group, creators of the Entrepreneurial Operating System. 
Paulette Turner
Paulette is president of Integrated Leadership Concepts, which she founded 11 years ago. She offers executive coaching and leadership and organizational development to a variety of organizations, including Leadership Fort Worth.
Richard Best
Richard is president and CEO of LEAD Executive Consulting, LLC, which provides leadership essentials and advanced development. He is also a Certified Forum Facilitator for Young Presidents Organization.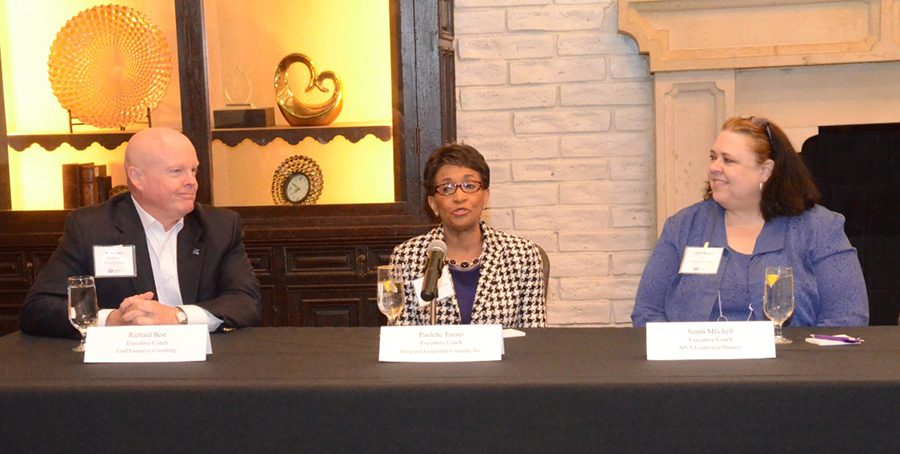 What's a typical coaching session like?
PAULETTE:
It depends on where we are in the year when we're working with the students. We start out really working with you to understand all of the feedback that comes from the assessments. We look at any gaps that you have in perception between how you think you are behaving and performing, versus the feedback provided by the colleagues you select to participate in a 360 review. And we help students to think about "if I have gaps there, these are the areas where I potentially may need to focus to improve in those areas."
Throughout the year we're together face-to-face at least five times, and then we're together over the phone or via email the rest of the year. The first one though is really critical because we're building rapport, we're understanding who you are, we're getting really deep on where you might need some specific work in order to develop as an agile leader. At the end of that process, you come up with these three goals and then it becomes getting together and understanding how you're progressing towards those specific goals.
How long do you meet with your clients?
SANDI:
The first session is two hours because we're really debriefing the assessments. And then all the face-to-face sessions are an hour. The student and the coach determine when they're going to meet. It could be one of numerous things, whether it's a breakfast, and where you're going to meet. So, it's very personal. The months in between, that we meet once a month in between, it's up to you. Twenty, thirty, sixty minutes, or email.
What are some of the success stories that come to mind?
PAULETTE:
Three of them are sitting in this room. Wow! They are very successful, but I will focus on a person who's not in this room. We were walking through understanding the assessment and … we ended up determining that this person really needed to understand why the boss had certain perceptions which were different from the perceptions of the student. [We put] together a plan to get with the boss on regular basis, understand the boss's needs, understand why there were certain points made in the assessment. As a result, every time I see this individual, I am mentioned to the people around us as, "This is my coach who made sure I spent time letting my boss know what I did, and as a result got a big promotion and a raise when people were not getting raises at that period of time." That really makes you feel good.
RICHARD:
It's not infrequent that managing conflict is one of the goals for the students I ended up working with. A lot of that really requires courage to confront. (And I'm being rather ambiguous because the conversations I have with my clients, as with all of us coaches, is confidential. We don't even talk to staff about the details of our conversation.) Helping them have the courage to confront in a way that they are demonstrating that they care about the individual, versus that you're just an obstacle that's in the way of my success. One of my clients actually struggled with someone who was considered a bad apple within their organization and my client adopted that person and she wasn't real happy about it. We talked about how she could inspire this person to actually be different from the way that person showed up, 'cause she showed up angry. When someone shows up angry, we want to show up angry back. Right? That's just natural. So she actually did something the opposite and started demonstrating that she had value and tried to leverage her strengths and that she was a valued member. The person all of a sudden just started responding.
SANDI:
I had one of my students that was on the fast track, and she didn't feel confident in their reasoning why she should be on fast track. So we did a lot of work around what are her strengths? Why would they put her on the fast track? What is the value that she is bringing to them? How does she talk to people in a way to show that she is no longer a doer, she actually is the leader that they hoped that she would be? And in that time period she ended up getting two really big promotions, and is very visible in the company now and excited about where she is. I just got another email from her yesterday asking for more books to read to prepare her for the next thing. I like keeping in touch.
What's required for successful coaching?
PAULETTE:
I think the first thing is a commitment on the student's part to be engaged and to make sure to utilize the coaches, because we can make suggestions based on our experiences from the past and it really makes a difference. In those times that I've had students that have not really taken advantage, that's not successful at all.
SANDI:
I think your willingness to be vulnerable and transparent. Tell us what's going on because we talk about whatever is going on in your life and in your business because it relates. Everything relates back to your leadership.
RICHARD:
For me what's a successful coaching engagement is that the client wants to change and they're engaged. They think critically. They take the questions that I ask, which sometimes can seem to come out of left field, and all of a sudden, a chasm opens up and we can both dive in together. Successful coaching engagement is that the client ends up realizing that they've made the journey and they've been successful for getting their goals, not because of me, but because of their efforts. 'Cause I'm just a catalyst.
PAULETTE:
Success is kind of working ourselves out of a job. Because at the end of the program, you should be ready to create your own forward plan. You really should have then developed the skills to take that information and know that your ongoing development is really important.
How many students does each coach have? What is the matching process?
KEVIN DAVIS, Director, Recruiting & External Relations:
Most of the coaches have four students, on average.
Because we have seven coaches who have very different backgrounds and come from different experiences, we really don't have any problem matching them up. Dr. Suzanne Carter, Dr. Linda LaCoste and I get together and look at the group of students coming in, and we match them up with the coaches based upon areas of expertise they've shared with us and also the track record of working with certain type of students from certain backgrounds, from certain goals that they may have expressed as part of the application process. Sometimes that may change. Luckily, we have coaches versatile enough to work with different types of students in case their objectives change.
RICHARD:
Chemistry's very important in a coaching engagement. If there's no chemistry, then there's likely going to be a lack of trust between the client and the coach, and so I have to say that over the eight classes that I've been involved with, you guys [EMBA staff] have done a wonderful job of that.
What separates this EMBA program from other big universities?
RICHARD:
I've watched staff be very intentional about trying to provide a program and a value to the student that they will be able to walk away with and be proud of. And that means being sure that the competencies are relevant to the present and the future. It also means making sure that we are providing the experience that will exceed the student's expectations. We are constantly looking at what can be better, and I get surprised sometimes getting an email from Linda (LaCoste) saying, "We're looking to see what can be different from this next class." That drive to change, and to be the best and always constantly evaluating what we do.
The panel shared much more insight that we didn't list here. Join us for the next preview luncheon and don't miss a word.