In the first part of this series covering Michael Sherrod's Executive MBA workshop about disruption and innovation, we covered several different methods for fostering innovation that don't always – or even usually – work.
March 20, 2017
Next, Sherrod went on to share his insight on what does work: both the changes you should implement in your organization and the mindset you should adopt to encourage new ideas.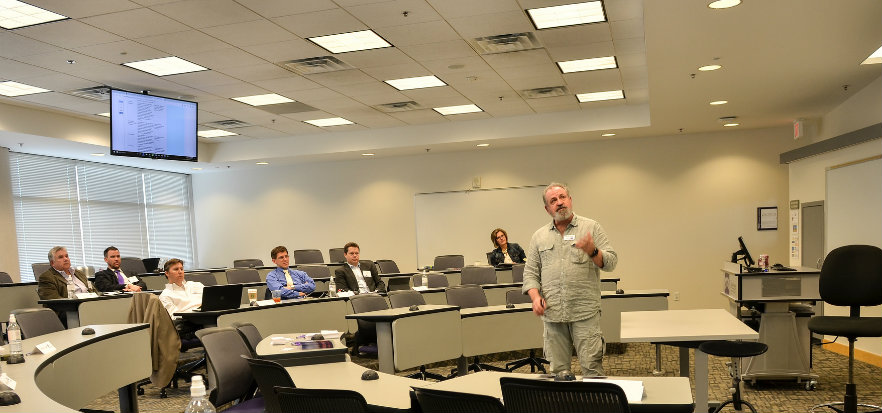 Shift from autocratic to collaborative leadership.
Traditionally, companies led from the top down, with the C-suite sending commands down through levels of management. But today's leaders need to be in the center, directly connected to every part of the organization, not just to understand how each department works and how it affects the other departments, but to collaborate with a diverse range of personalities, perspectives and specialties. That diversity is the key to encouraging, identifying and implementing new ideas.
Sherrod notes this is a huge opportunity for female leaders, who naturally tend to be more collaborative and relationship-focused.
Include digital natives on your executive team.
Yes, that means Millennials, who grew up on the internet and smartphones. This is the generation driving change, and they are more likely to understand the culture, the mindset and where things are going next. You'll need them represented in your leadership – the oldest Millennials are in their thirties now, so that's not such a stretch. Shift the skillsets you're looking for more towards software than hardware, to digital, mobile and analytics.
Identify what creates value – then turn it on its head.
Identify what people value (convenience, affordability, security?), then step back, turn it on its head and find brand new mechanisms for creating even more value. This is, of course, the single hardest thing to do.
Jeff Bezos asked, "What's not going to change?" and determined price and delivery would always be important to customers. Then he built Amazon on those two things. As of 2016, nearly half of all American households were enjoying perks like free two-day shipping through Amazon Prime.
Lending tools to your neighbor, driving a friend to the airport or staying with family when you're on a trip – the concept of saving money and sharing resources has given birth to the sharing economy with services like MyTurn, Uber and AirBNB.
Smartphones made computing power mobile and pocket-sized; now smart homes are making it even more ingrained in our everyday lives. The Internet of Things lets us control our thermostats, lights and door locks from our phones, or with voice commands using devices like Amazon Alexa or Google Home.
Keep adapting; what's next?
New companies tend to be more agile, but as they start maturing, they become incumbents, stuck in their ways, losing their agility and their willingness to try new things, tending to reward consistent results instead of new ideas. You must break through that and keep adapting if you want to stay alive – like Facebook shifting to a mobile-first design and mindset.
Amazon is already experimenting with drones to make delivery even faster, but that raises issues with safety and privacy. In the future, they may be able to digitally send orders directly to your home 3D printer.
The rise of the sharing economy means increased risk of damage to private property, so insurance companies like Slice are offering specialty policies to cover things like short-term rentals.
The Internet of Things comes with risks, too. Smart door locks can be hacked; so can OnStar, which tracks your car; or Alexa, which monitors the audio around your home. The next big thing could be technology that protects us from all that – or even a shift back to simpler tech.
So what's the next big advancement, with the revolutionary potential of the internet and the smartphone? Sherrod discusses a major contender in Part 3.