With the additions of Cantey Hanger Partner Julie Bergkamp and The Walt Disney Company's Brent Woodford, TCU Neeley continues to equip students with current best practices and expand its robust network of professionals and resources.
January 16, 2023
By Rachel Master Stowe
In addition to instruction from distinguished faculty recognized as global leaders in their academic fields, TCU Neeley students also learn the latest best practices from highly respected leaders in professional roles across sales, technology, health care, law and entertainment/media, showcasing the school's ongoing commitment to delivering at the intersection of academics and industry.
The endowed TCU Neeley School Executive-in-Residence program began in fall 2021 with senior sales executive Corey Hutchison and technology/supply chain expert Bets Lillo. After six years of teaching MBA-level management courses as a TCU Neeley adjunct professor, Ken Weitzel, an advisor to health care leaders, joined the EIR program in fall 2022 to ready undergraduates for careers in consulting. This spring, the program expanded to five total Executives-in-Residence with the addition of Cantey Hanger Partner Julie Bergkamp, who will help student-athletes in Neeley Name, Image and Likeness courses understand the NCAA's new NIL rules, and Brent Woodford, executive vice president of controllership financial planning and tax for The Walt Disney Co., who will focus on accounting and ESG.
The Executive-in-Residence program complements the rigorous academic curriculum with real-world insights and practical applications from high-profile business leaders. Serving as adjunct faculty, these executives lead classroom lectures and provide student mentoring and career coaching. They also help bring in new stakeholders and resources — elevating the network and profile of TCU Neeley as well as the greater North Texas business community.
Get to know TCU Neeley's five current Executives-in-Residence below:
Julie Bergkamp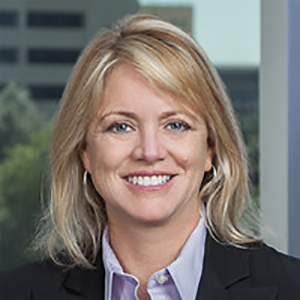 Bergkamp is a partner in the Fort Worth law office of Cantey Hanger LLP and vice chairman of the firm's business and tax section. Her practice focuses on business and tax planning for clients ranging from closely held family organizations to Fortune 100 companies in various industries. Specializing in mergers and acquisitions, she also represents health care organizations with contractual and state and federal regulatory issues as well as advises clients on intellectual property laws, including trademark, copyright and licensing matters. Previously she practiced law in New York and Chicago, primarily focusing on international tax law, and mergers and acquisitions.
Following a BA from Texas Tech University, Bergkamp earned her JD from Syracuse University College of Law. Originally from Fort Worth, she lived in Paris, New York and Chicago before returning to Fort Worth and joining Cantey Hanger in 2003. In addition to English, she is fluent in French and Spanish.
As the David and Marie Louis Kinder Executive-in-Residence, Bergkamp works with TCU student-athletes to answer questions about the NCAA's new name, image and likeness rules as well as general business legal issues. She also teaches an entrepreneurial law course at the undergraduate level. This new Executive-in-Residence position was created by a generous donation from David '96 and Marie '95 Louise "ML" Kinder.
An avid college sports fan, Bergkamp is excited about getting to know TCU's student-athletes and sharing in their enthusiasm about their future plans and goals.
"I really enjoy working with students and helping those who are embarking on their professional journeys. I want to help make business law concepts understandable and practical," she said.
Bergkamp's advice for students: "Ask questions! Sometimes there are simple answers to even the most complicated questions. And don't underestimate persistence. As Benjamin Franklin said, 'Energy and persistence conquer all things.'"
Corey Hutchison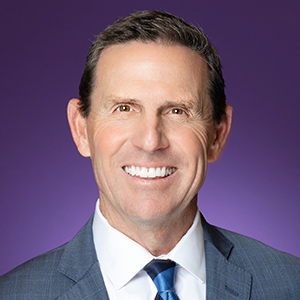 Hutchison's nearly four decades of professional sales experience includes success as a senior executive and sales leader in the tech industry as well as CEO of a cloud computing startup. Currently he is vice president of Americas sales at HashiCorp, a San Francisco-based software company, where he is responsible for field operations serving all customers in North and South America. He also is the author of Sales Audit: The Sales Manager's Playbook for Getting Control of the Selling Cycle and Improving Results (2007).
Hutchison received a BA in premedical studies and philosophy from the University of Notre Dame. Born in Arlington Heights, Illinois, and raised in Madison, Wisconsin, he splits his time between Fort Worth and Marana, Arizona.
Hutchison taught sales and leadership courses at California State University, Fullerton, and also helped launch its Sales Leadership Center. When he saw TCU Sales Center Director Zachary Hall's social media posts about efforts to establish the Certificate in Consultative Sales, Hutchison — the father of two TCU alumni — felt compelled to offer his help.
Hutchison holds the Rachel Roth Taylor Executive-in-Residence, which was established through the generosity of Melissa and Leo Taylor in memory of his mother. In this role, Hutchison is responsible for operations and outreach for the TCU Sales Center. He also teaches a lecture/lab course on consultative selling. Hutchison weaves theory with real-world insights about the day-to-day experiences in professional sales, serves as a mentor as students choose their career paths and coaches them in live selling.
"The best part is seeing the most uncomfortable students, who lack confidence but have hidden skills, rise to the top of their confidence and ability to credibly represent the value of a solution that addresses customer pain," Hutchison said.
"The uniqueness of the TCU Sales Center — leveraging practitioners as adjuncts and live selling — are what set TCU and the students succeeding in this program apart from their career competition," he added.
Bets Lillo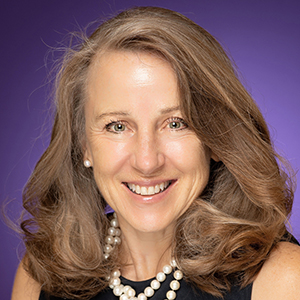 An accomplished supply chain and technology executive, Lillo is known for her global digital transformations and M&A leadership in complex transactions. Following executive positions at AbbVie, Abbott Labs, AT&T and IBM, she now serves in advisory roles focused on value chain optimization software, cybersecurity, rural broadband and flexible circuits. She is a member of several boards of directors, including technology firm River Logic, the World Affairs Council of Dallas/Fort Worth and the International Women's Forum. She also serves on the advisory boards of Entara, Skylark Wireless and Loomia and is a mentor to early stage companies.
Lillo earned a BSE in biomedical engineering from Purdue University and an MBA from Northwestern University's Kellogg Graduate School of Management. Having held work responsibilities on every continent except Antarctica, she has lived in many places — including the United Kingdom — but moved to North Texas from Chicago during the pandemic.
At TCU Neeley, she teaches global supply chain courses for MBA and MSSC students and a global business and ethics course for undergraduate students.
Information does not just support a business — it makes or breaks a business. This is as true for understanding the behavior of people within a business — global business ethics — as it is for optimizing the manufacturing and movement of goods — global supply chain," Lillo said.
More than just trains, trucks and container ships, supply chain is the information ecosystem that connects the capabilities of departments within a business as well as that organization to its external resources, she said.
"Over the last several years, we've seen the way in which traditional, siloed decision-making in business just could not keep up. 'Fixing' supply chains and enabling business for the future is about integrating the information across a business to give decision-makers a depth and breadth of understanding about current business factors and future business risks so they can make thoughtful, real-time decisions," Lillo said.
Ken Weitzel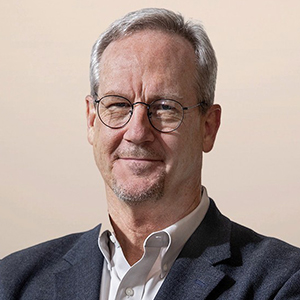 After two decades of IT consulting for such heavyweights as Accenture, PepsiCo, HP, Ernst & Young, CSC and Scient, Weitzel pivoted to the best practices research and advisory space, spending 13 years as an executive advisor and principal facilitator with Corporate Executive Board's IT practice. Following a stint in strategy and mergers and acquisitions consulting, he returned to the advisory role, this time in health care. Now as an executive partner at Advisory Board, a Washington, D.C.-based health care research and advisory firm, he helps C-suite executives and practitioners navigate the challenging and complex hospital, insurance and provider landscape.
Weitzel earned a BA from Austin College and an MBA from the University of Texas at Austin. Originally from a small town in East Texas, he consulted around the world, living in Singapore, San Francisco, Brussels and Silicon Valley before settling back in Dallas in 2005 with his Horned Frog wife, Celia Kugler Weitzel '85, and their two children.
Weitzel holds the Executive-in-Residence for Accounting, which was funded by an anonymous donor. He said he loves academia and teaching TCU Neeley students the personal skills that enable success as a consultant.
"My goal is to help students think beyond the technical skills of any role they seek. It's all about relationships and how you build them — and then how you leverage them to help people reach their outcomes," Weitzel said.
"The best part is watching students 'get it' and realize these are life skills. I'm very proud when students tell me, 'This goes well beyond consulting.' I look forward to working with undergraduates as they consider careers and leveraging my contacts and friends to help them," he added.
Weitzel tells his students: "You're in the part of your life where you're stacking up skills and experiences that create choices later in life. Ultimately, you will leverage those choices in picking pathways through the career — or careers — that you'll have."
Brent Woodford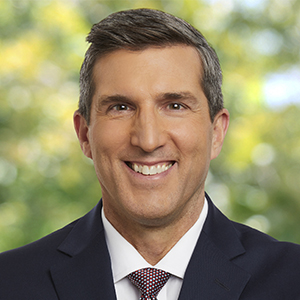 As executive vice president of controllership, financial planning and tax at The Walt Disney Co., Woodford oversees companywide controllership and related shared service financial activities as well as the tax function. Responsible for external and internal financial reporting, he plays an integral role in developing Disney's operating profit, cash flow and capital spending plans as well as provides administrative oversight of management audit.
Prior to joining Disney in 2003, he was vice president and controller of Yum! Brands Inc. and controller of PepsiCo's international restaurant division. He also has prior experience as an equity securities analyst with A.G. Edwards & Sons, as a financial consultant with Coopers & Lybrand and in the audit practice at KPMG's Dallas and London offices.
Woodford earned a BA in Accounting from Michigan State University and an MBA from St. Louis University. He grew up in Janesville, Wisconsin, and now lives in Weatherford.
As the Hirth Family Foundation Executive in Residence, Woodford will help strengthen TCU Neeley students' understanding of environmental, social and governance issues — a knowledge base that is increasingly important for future finance and accounting leaders. This spring, he serves as co-instructor of the ESG Reporting and Assurance, a graduate-level class for both MBA and MAc students, and is guest speaking on similar topics in an undergraduate, honors-level class. This new TCU Neeley Executive-in-Residence position, the Hirth Family Foundation Executive-in-Residence for Management and Leadership, is made possible through the generosity of Robert B. Hirth Jr., Deborah Weller Hirth and the Hirth Family Foundation.
"I'm getting to the late stages of a long career in business, finance and accounting and find it rewarding to share what I have learned over the years with students. It is also helpful for me to understand what is important to the next generation of people who will be joining companies — including my own," Woodford said.
His advice for today's students: "Pursue both breadth and depth of experience, especially in the early stages of building your career."