Devan Peplow, senior entrepreneurial management major and BNSF Neeley Leader, helps unleash potential in classmates and entrepreneurs.
April 26, 2019
By Elaine Cole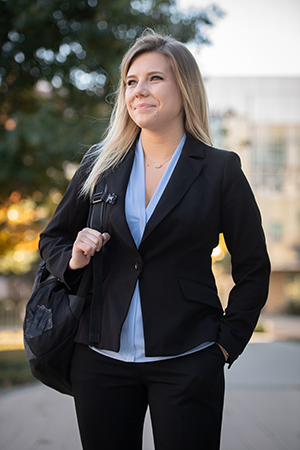 As an active member of BNSF Neeley Leadership, the Entrepreneurship Club at TCU, TCU Connections and Kappa Alpha Theta, Devan Peplow is determined to be part of the organizations that had helped her so much as a freshman. 
"These programs gave so much to me. I wanted to do the same for another generation of students," she said. 
Much of this mindset was nurtured in the BNSF Neeley Leadership program.
"Every class [in BNSF Neeley Leadership] is a chance to look at what's going on and how you can apply your knowledge, to think about what adds to your motivation and what decreases your motivation. It shows me how to be a better person in every aspect of my life," Peplow said. 
She also was an intern for TECH Fort Worth business incubator through the Entrepreneurial Intern Scholars Program. Hayden Blackburn, executive director for TECH Fort Worth, called her an all-star student. 
"Devan has a drive to get to what can be done and fill in the gaps," Blackburn said. "She's a good listener and can drive a conversation forward with planning and action."
Peplow found her niche in marketing, communications, social media and event planning for TECH Fort Worth. She interacted with all 31 of TECH Fort Worth's clients as she put together a plan for a new website.
Even with so many commitments, Peplow is dedicated to giving back, especially to younger classmates.
"TCU helped me grow up. It's like they are saying, 'We've given you everything you needed. Now it's your turn to help others around TCU,'" she said. "When I see a freshman or transfer student in need of help, I'm that person. My legacy at TCU is there with them."