TCU Neeley Director of the Office of Inclusive Excellence receives special award for her leadership, innovation and dedication to student success at the western region student conference for the National Association of Black Accountants.
September 29, 2021
By Erin Smutz
Ann Tasby, accounting instructor and faculty liaison for the TCU chapter of the National Association for Black Accountants (NABA), received the Outstanding Faculty Adviser Award for the western United States at the 2021 NABA Student Conference. The prestigious award recognizes individuals who have gone above and beyond to support leadership development and student success.
Each year, NABA hosts four student conferences across the United States to provide professional growth opportunities for undergraduate students studying accounting and other business fields. At the conferences, NABA recognizes stellar achievers, both students and advisors, for their hard work, persistence and dedication.
"I am honored to have the opportunity to make a generational difference in the lives of our amazing students and the accounting profession," Tasby said.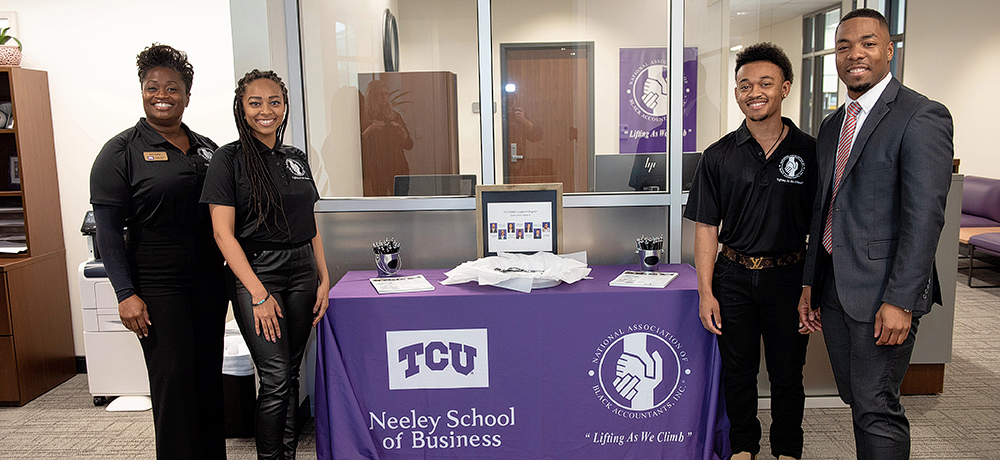 Tasby has been a NABA member for more than 20 years and led the launch of the TCU student chapter of NABA in 2019, which in its inaugural year tripled membership and was named Chapter of the Year for the western United States. She also introduced the Accounting Career Awareness Program (ACAP) at TCU, a free high-school summer program to bridge the opportunity gap for historically underrepresented students.
In 2020, Tasby was named director of the Office of Inclusive Excellence at the TCU Neeley School of Business. As director, she develops and leads a school-wide inclusive excellence strategy, framework, activation and accountability system for historically underrepresented students, plus a recruitment and retention plan for diverse faculty and staff, to enrich the TCU Neeley academic experience and culture of connection.