Katrina Clough joins more than 250 undergraduate and graduate accounting students across the nation as a Public Company Accounting Oversight Board Scholar and receives a $10,000 scholarship.
September 02, 2021
By Erin Smutz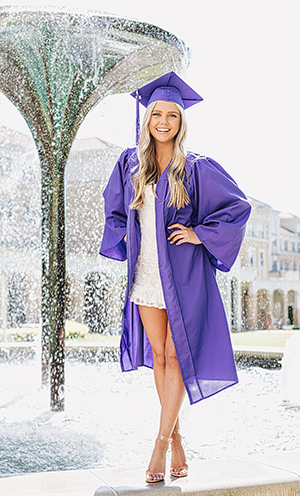 Katrina Clough was awarded the 2021-2022 Public Company Accounting Oversight Board (PCAOB) Scholarship of $10,000 for her academic excellence in accounting at the TCU Neeley School of Business.
The PCAOB, a nonprofit corporation that oversees the audits of public companies in the U.S. and broker-dealer audits, awards academic scholarships to undergraduate and graduate accounting students through its PCAOB Scholars Program. Since the program's inception in 2011, the PCAOB has awarded $16.23 million in scholarships to 1,623 students.
"Congratulations to our PCAOB Scholars who achieved this distinction during an unquestionably challenging period for students everywhere," said PCAOB Acting Chairperson Duane M. DesParte. "The PCAOB is pleased to help support these dedicated individuals on their paths to becoming leaders in accounting and auditing."
Next year, Clough will continue her accounting studies in the TCU Master of Accounting program. After graduation, she'll join Deloitte as an audit associate.
"I feel so honored and grateful to be a recipient of the PCAOB Scholarship, which will support my continued path in accounting," Clough said. "I'd like to thank Dr. Renee Olvera in the accounting department for nominating me for this scholarship. I look forward to using all the experiences, skills and knowledge TCU has given me in my future career."
Learn more about the PCAOB Scholarship and the 2021-2022 recipients here.