The Office of Inclusive Excellence's Suit Up – Lead On program provides professional attire for Neeley students with a financial need.
January 23, 2023
By Amber Billups
For Milton Mondlane, a TCU Neeley senior majoring in Business Information Systems, there are obvious benefits to a polished, professional image when leading presentations, participating in competitions or attending conferences.
Through the Suit Up – Lead On program, operated by the Neeley Office of Inclusive Excellence, Mondlane is putting his best foot forward with a custom-designed suit, made just for him.
"I wore the suit for a social impact design competition at TCU, and I look forward to wearing it during future business competitions I will attend," Mondlane said. "The custom suit will allow me to project a very professional image in business settings that can accelerate my career goals. It is a confidence booster."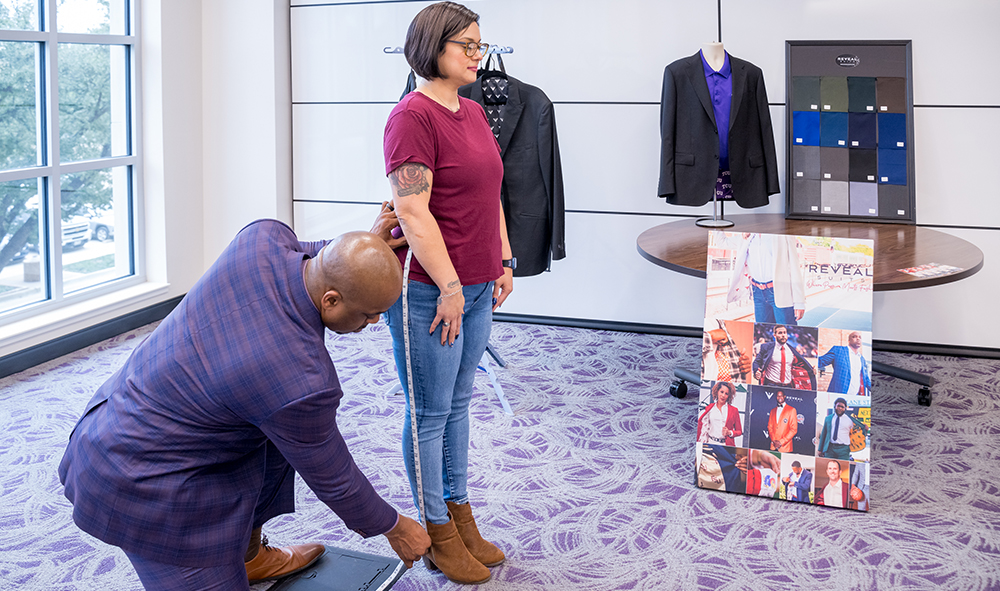 The Suit Up – Lead On initiative is a need-based program designed to provide access to high quality business attire that fits well, said Ann Tasby, the director of TCU Neeley's Office of Inclusive Excellence. Each awardee is provided with a suit, including a shirt or blouse.
"Suit Up - Lead On was the direct result of taking action to address feedback from our students about how to reduce barriers to entry and propel all students," said Tasby.
To enhance the TCU Neeley academic experience and culture of connection, Tasby leads the design and implementation of the school-wide inclusive excellence strategy, framework, activation and accountability system.
"The Suit Up - Lead On program has been in place for more than two years," said Tasby. "We made the switch to custom suits because we identified a diverse vendor that generously agreed to provide custom suiting for our students at comparable pricing. This was a win - win because we were able to support a diverse vendor while doing the most good for our students."
Renee Perez, a junior majoring in business information systems, also received a custom suit and wore it in December for a final presentation for a Business Information Systems course. Perez and other students were also featured in a USA Today article about the Neeley's Suit Up program.
"I felt confident," Perez said about moments when she has worn her custom suit. "I beam from ear to ear when I am asked by others to see the inside lining of my coat and it has TCU purple and the logo, as well as my first and last name."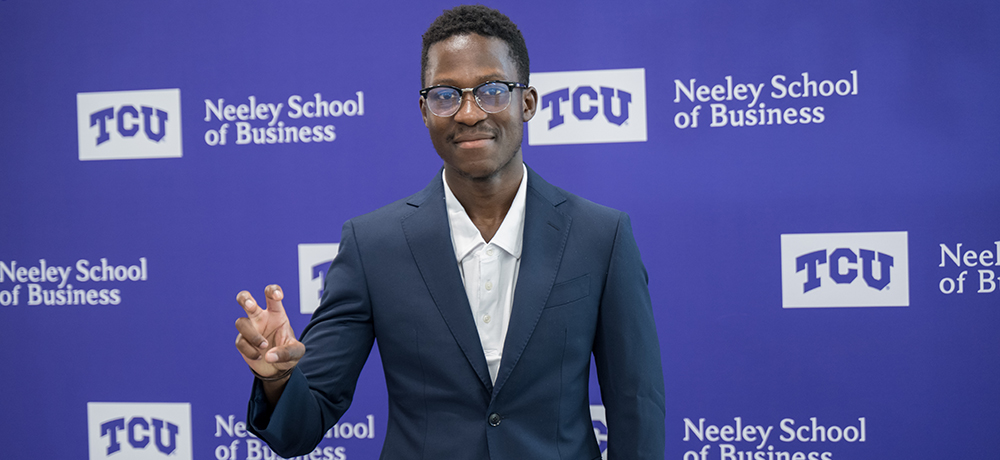 Perez plans to wear her suit at the American Association of Hispanics in Higher Education convention in Las Vegas in March.
The Suit Up – Lead On initiative is also designed to encourage students to take advantage of the outstanding career support services available in the Alcon Career Center and the Professional Development Center. The Alcon Career Center provides access to employers interested in hiring our students for internship and full-time career opportunities. The Professional Development Center provides resume and cover letter guidance as well as mock interviews and case interview preparation services.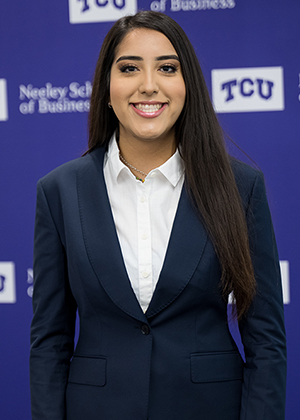 Olivia Kollias, a sophomore majoring in marketing and management, believes it is incredibly important to receive a customized suit because it allows students to feel confident in something made specifically for oneself.
"This opportunity made dressing properly for interviews and presentations easy," said Kollias. "I utilized my suit for presentations and interviews on campus, and I plan to continue using it for those purposes."
TCU Neeley has launched several programs that support inclusive excellence, including need-based access initiatives like Suit Up - Lead On. The Neeley Office of Inclusive Excellence represents the commitment and investment by TCU Neeley to do what is necessary to develop well-rounded, culturally fluent professionals ready to be effective in our global economy.
All Neeley students have an opportunity to apply for the program. Selections are made based on financial need, individual case evaluation and available funds. Thanks to the generosity of donors, the program has been able to accommodate more than 95% of applicants to date. If you would like to partner with us to make a difference in the lives of our students by donating to the Neeley Inclusive Excellence Fund, click here.