"I'm always looking for ways that PepsiCo and TCU can interact for mutual benefit," said Ralph Goedderz MBA '97, chief financial officer and vice president of global information technology for PepsiCo.
January 29, 2019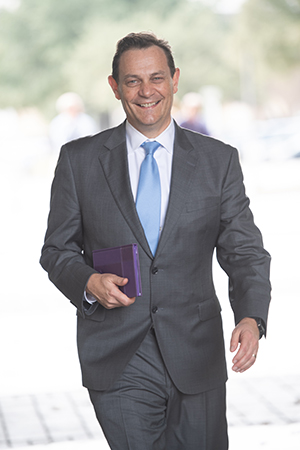 By Elaine Cole
Ralph Goedderz was once a TCU MBA student making the most of every opportunity TCU put in front of him. Twenty-one years later, he is helping provide some of those opportunities. 
Goedderz was instrumental in partnering with TCU Neeley to establish the annual PepsiCo MBA Invitational Case Competition. MBA students from across the country are invited to TCU each fall, assigned to teams with each team member from a different school, work together and then present their solutions to a panel of PepsiCo executives.
"I get to connect a little better with the potential workforce rather than just through an interview," said Goedderz, who is also a member of Neeley's International Board of Visitors.
It may be a competition, but everybody wins.
"We get insights from new generations of consumers who are leveraging their own experiences and ideas about our products, and we get business advice from students who will be the business leaders of tomorrow," Goedderz said.
"The students are the biggest winners," he added. "Many of them are still in touch and exchanging experiences about their curriculums and job searches."
TCU MBA Claire Lukeman was on the 2018 winning team and said the experience expanded both her perspective and her professional network.
"Our strengths were well-balanced, we learned from each other and we delivered a well-thought-out presentation," she said of her teammates from Columbia, Vanderbilt and Texas A&M. "It made me realize just how lucky I am to be in a program that prioritizes experiential learning in such a personalized way.".
Thanks in large part to Goedderz's connection with his alma mater, many TCU Neeley students have found careers at PepsiCo. 
Paige Sabo MBA'18, associate manager of business innovation at PepsiCo, began her relationship with PepsiCo during the case competition and capitalized on that initial opportunity by working with PepsiCo again on a project through Neeley & Associates MBA consulting.
"Putting you in front of people who can help you get jobs is a big part of the school," Sabo said. "Interacting with people like Ralph from an early point in the MBA program, I wasn't afraid to reach out to other TCU alumni in the company. A lot of people helped me with mock interviews and insights into the business. That was invaluable for my interview."
Like the best stakeholders, TCU's and PepsiCo's goals align.
"It's in both of our best interests to have a lot of people helping us spread the word about the quality of our organizations," Goedderz said.