There are all types of leaders, with all types of personalities and career goals, and the Executive MBA program offers a personalized experience to fit each of them.
March 22, 2019
Kim Speairs, class of 2014, had worked in advertising and public relations for 25 years, including Balcom Agency, which manages the marketing for the Neeley EMBA program. She wanted to expand her leadership and business acumen and take on a more strategic role at her agency, yet she wasn't sure how. Then her growth in the program led to an amazing new opportunity.
Here's a look at the program from Kim's perspective.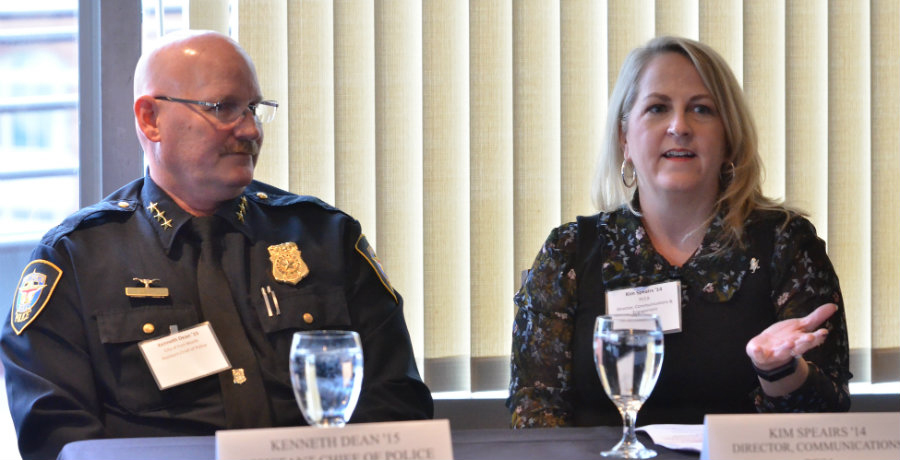 Pivoting Careers
When I first started the program, I had been working at ad agencies my entire career and had covered a lot of ground. I didn't realize at the time how I was just going about my business; I was lacking that inspiration, that spark. Been there, done that. I missed the continual learning.
I'd been thinking about the Neeley EMBA program for years, because I'd helped with the marketing for it. Then a team member, who was working for me at the time, said during his review, "I really think I'm going to start an MBA program this next year." That was my last little trigger. I thought, "Oh, I cannot let him get that MBA before me."
Since the program, I had a huge opportunity to launch a new career path. I've become director of communications and engagement for PCCA, a pharmaceutical company based in Houston. We help prescribers and pharmacists make personalized medicine. It's making a difference in patient's lives.
Developing as a Leader
One of the great things the program does is the personal development plan, which includes working with coaches. Going into the program, you define your goals for when you leave the program, and what personally you want to improve. You do a 360 assessment, where your peers at work, your boss and your clients complete an assessment on you. It's great to have that feedback immediately to say, "OK, these are the areas I really need to work on."
For me, it was a chance to build confidence. I'd always worked in small agencies and been a consultant. But I wanted to have more exposure to the bigger corporations, how those run, and how to manage conflict. Those became a key focus for me during the program.
You meet with your coach regularly – and mine is still a great friend today. They'll continue to guide you, and help you process through it. You're also relying on your team in class to support you. Saying, "This is what I'm working on. Help me identify where I'm failing, help me identify where I've succeeded, how I keep going."
Dr. Rita Kosnik's negotiations class was crucial in what I do, as well as Dr. Suzanne Carter's strategy class, and how it integrated the whole program together.
Connections
Your class is very much a family. We still have a weekly breakfast on Mondays for alums. We have tailgates at every football game. This crosses over the classes, so when you can look at the connections, it's not just who you meet in your classroom, it's all the classes that come before and come after you.
You also have to realize the connections you have from the professors. This isn't like when you're in high school, or grade school. These are colleagues. I still pick up the phone and call Dr. Carter and say, "I'm working through this, can you help me process this?" The professors are all willing to lend a hand; they're always a resource when you're attacking new things.
Return on Investment
I funded the program by myself. It was a big challenge. But in the end, I had ROI on a couple of different levels:
I had, obviously, a job change. I worked at advertising agencies for 25 years, so it was a big change going to more of a corporate setting, and shifting from advertising, public relations and marketing to organizational change management and engagement. So, that's been a huge ROI.
You'll find in every class you go into that you're going to take something away that day, and start putting it to use on Monday. Your ROI doesn't wait until the end of the program. It starts happening immediately. You start making all the connections.
My Biggest ROI - Personal
There's never a perfect time for the program, when you're going to have every single duck in a row. Even when you think you're ready, something else is going to change when you get into it.
I was three months into the program when I was diagnosed with breast cancer. It completely changed my world. And my biggest ROI was being able to get through those two years of chemo and treatment. Everything's good; I'm at five years survival now – but my biggest ROI was the friendships, the personal support that made me able to make it through. Nothing could ever replace that. So, not only is there a financial ROI, but the personal ROI just continues to give.
See more EMBA profiles: