The women-building supply chain organization AWESOME named Servais the winner of the Excellence in Education Scholars program.
December 08, 2020
By Mariana Rivas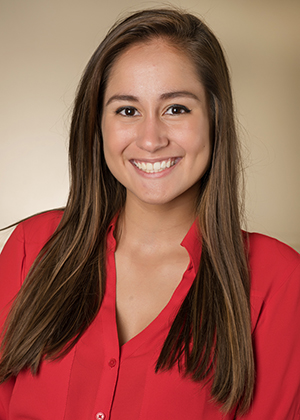 "It was really cool to be one of the first TCU winners and help put TCU supply chain on the map for future scholars," said senior supply chain and marketing double major Ashley Servais, who is also a member of Neeley Fellows, a highly selective business honors program that develops enriched business skills through a unique and challenging cohort experience.
Achieving Women's Excellence in Supply Chain Operations, Management and Education, or AWESOME, encourages female leadership in supply chain. It connects women from across the country at all levels of their supply chain careers. The Scholars program is one example of the mentoring they provide for women starting out in supply chain.
Servais and four other winners from different universities each won a scholarship and access to make long-lasting connections for their futures in supply chain. They have the opportunity to attend conferences and networking events to connect with female supply chain leaders.
"AWESOME started as women in supply chain felt alone and isolated in their role. It's been awesome to learn from people who had it harder than I did and were the only women in the room and found a way to be successful and create a network," Servais said. 
Servais learned while applying for the program that her mother was involved with AWESOME.
"It was one of those things where your parents do something really cool, but you don't know about it until later in your life," she said.
Servais' interest in supply chain started with both of her parents' careers in the field. After taking supply chain courses at TCU, she started to think of it as a career path for herself.
Travis Tokar, associate professor of supply chain management, was Servais' demand planning professor. Tokar nominated Servais for the scholarship because he was impressed with her academic success and engagement in the class.
"It's a good opportunity for any student, but particularly someone who demonstrates a lot of capabilities and leadership to get plugged into this group," he said.
Servais will complete a dual degree in Supply and Value Chain Management and Marketing with a certificate in Consultative Selling in the spring of 2021. She will start her career at Dell's supply chain development program after her May 2021 graduation.
"Supply chain was kind of the magic behind the curtain up until this point, but with toilet paper stock outs and people not being able to get the packages they need right away, supply chain is becoming more of a household term," Servais said. "It's a really interesting time, but a really exciting time to start my career in supply chain."
Servais is only the second AWESOME Scholar from TCU since the program began in 2013. The first the scholarship award was given to Alex Kester BBA '14.