Winning over teams from universities around the world, the TCU Neeley team of Ryan LeWright, Jamie Khuc and Graham Leech brought home an impressive first place in the CoMIS Case Competition.
April 16, 2019
By Elaine Cole
They went to Minnesota to go up against information systems majors from 18 other universities across the United States and around the world. 
They came home with the well-deserved top prize.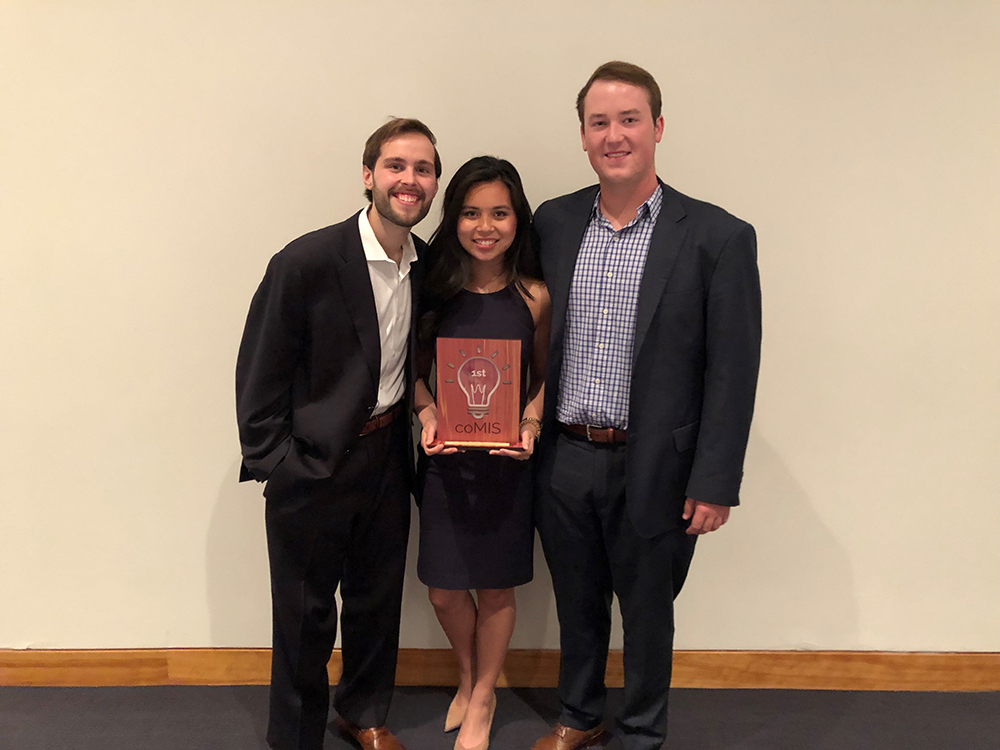 In the 2019 CoMIS Case Competition, the premiere competition for undergraduate information systems majors, TCU BIS students stood out with award-winning recommendations and captured first place. The University of Arizona placed second and Indiana University placed third. 
"Many of the top IS academic programs compete at CoMIS, so the TCU team did exceptionally well in winning over such tough competition," said Kelly Slaughter, professor of business information systems and director of the TCU BIS program. 
Seniors Ryan LeWright, Jamie Khuc and Graham Leech were coached by Slaughter for the intense 24-hour competition held annually at the University of Minnesota's Carlson School of Management in Minneapolis. 
"This was one of the most rewarding and challenging experiences of my academic career," said Leech, who is president of the TCU Association for Information Systems. "I move forward from this opportunity with the realization that TCU has fully prepared me to be a valuable employee, team member and leader in the work force."
"This competition was a journey of learning, challenges and even laughter," added Khuc. "As I finish my TCU career, this opportunity will stay with me as a memento of what it means to be a continuous learner and tenacious leader." 
"Representing TCU at the CoMIS case competition was a great experience, and it really showed me the value of the skills that we are taught here," LeWright said.
Participating universities for 2019 were: American University at Middle East (Kuwait), Brigham Young University, Corvinus University Budapest (Hungary), Emory University, HEC Montreal (Canada), Indiana University, Iowa State University, Kwantlen Polytechnic University (Canada), Pennsylvania State University, Ryerson University (Canada), Simon Fraser University (Canada), Texas Christian University, University of Arizona, University of British Columbia (Canada), University of Connecticut, University of Florida, University of Iowa, University of Maryland and University of Texas at Dallas.