BNSF Neeley Leader Cassie Trosino is part of an exclusive list honoring 100 of the most accomplished business undergraduate students in the United States.
April 12, 2022
By Nicholas Ferrandino
Cassie Trosino, a marketing major with a philosophy minor at the TCU Neeley School of Business, has been selected by Poets&Quants as one of the 2022 Best & Brightest Business Majors.
Leader. Scholar. Soccer Player. Casual explorer of existential philosophy. Woman of action. Both Trosino's academic accomplishments and personal passions make her a trailblazer among the list of business majors across the nation.
"I admire Cassie not just for her willingness to question the status quo in the world around her, but also the bravery in which she questions and seeks to understand her own views," said Brad Harris, associate professor for management and leadership and academic director of the BNSF Neeley Leadership Program.
During her time at TCU, Trosino has served as the president of TCU's Panhellenic Council, the governing body for 12 of the university's sororities; served as the scholarship chair and an election committee member for Kappa Alpha Theta; and served as a student academic adviser for the Neeley Navigators. Trosino's leadership roles around campus led to a nomination for the Junior Pillar of Leadership Award.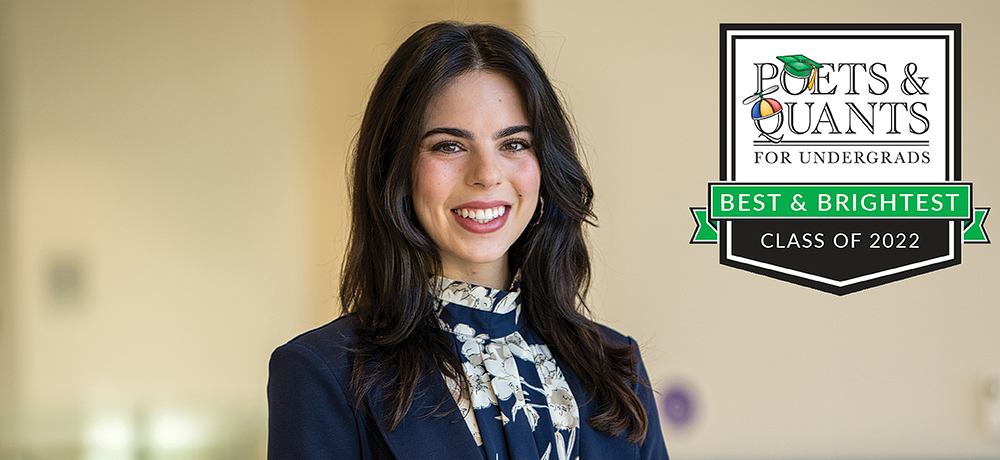 But by far the most important milestone in Trosino's years at TCU was her impact project for the BNSF Neeley Leadership Program (NLP).
Partnering with fellow NLP students Brennan Holt and Hayden Hite, Trosino helped create Liters for Life. The fundraising program aimed to raise money and awareness for Charity: Water, a non-profit organization providing clean drinking water to developing countries across the world.
"What Charity: Water does is not remarkable just because they provide clean water to people who need it – it is how they support the communities they help while doing so," Trosino said.
Liters for Life raised $32,650 in total by the end of its campaign. And with Charity: Water's unique 100% donation and 0% overhead model, every dollar Liters for Life made went directly to helping the families of impoverished communities.
After a fulfilling four years as a TCU Neeley undergraduate student, one of the biggest lessons Trosino walks away with is the incredible value of connecting with and building genuine relationships with other people. Not just as a means of networking, but as an avenue to continue to learn and grow after college.
"No matter who you work for, tutor, sit next to in class or mentor in your free time, there is something that can be learned from everyone you meet," Trosino said. "Knowledge is not static. We can and never will be all-knowing."
Whether a professor or a first-year student, everybody knows something of value that you do not. Taking the time to build those connections will better prepare you for whatever the ever-changing world of business might throw your way.
Trosino gave a special thanks to her parents, who she says were formative to her success at TCU.
"My father's steadfast experience in the insurance industry and my mother's ever-growing arsenal of health knowledge have both contributed in a multitude of ways to who I am today," Trosino added.
Read Trosino's full Best & Brightest feature story here.
Read about our other 2022 Poets&Quants Best and Brightest Senior Keegan Myers here.