Neeley Fellow Keegan Myers is part of an exclusive list honoring 100 of the most accomplished business undergraduate students in the United States.
April 13, 2022
By Nicholas Ferrandino
Keegan Myers, a double major in finance and entrepreneurship with a double minor in Spanish and Hispanic Studies at the TCU Neeley School of Business, has been selected by Poets&Quants as one of the 2022 Best & Brightest Business Majors.
"What stands out to me is Keegan's principles," said Stacy Landreth Grau, professor of entrepreneurship and innovation practice at TCU Neeley. "He has a very strong moral compass, which is a tribute to his family, upbringing and early experiences. And he brought those gifts to TCU and made an immediate impact on this campus." 
Energetic, eager and always looking to get involved, Myers has ingrained himself in both the academic and spiritual communities at TCU. Among his many accomplishments, Myers is a John V. Roach Special Scholar and Neeley Fellow; served as a youth group leader for the Trinity Presbyterian Church of Fort Worth; and served as the vice president of finance, advocacy and outreach for the International Justice Mission, a non-governmental organization with the mission to end violence against impoverished communities across the world.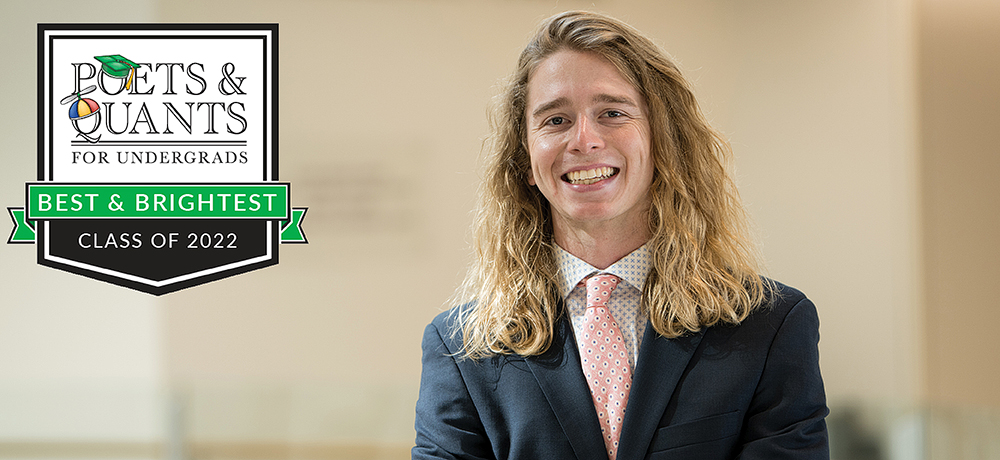 One of the most impactful experiences of Myers' time at TCU was his 2021 internship as an associate consultant with Bain & Company, a Dallas consulting firm.
"Unlike anything I had done before, my internship experience at Bain & Company felt as if I was maximizing the interpersonal, analytical and intellectual abilities that I have developed over the years," Myers said. 
The semester Myers spent with the company was seminal to his development both as a student and business professional. He was most impressed by his senior manager Nathan Rogg, who built a healthy and positive relationship with his co-workers and cultivated an environment where camaraderie was as vital to the workplace as the bottom line.
Myers will be returning to work with Bain & Company after graduating this May, where he hopes to continue learning how to become an influential and equitable leader.
As he prepares for the next step in his journey, Myers shares some advice to future TCU Neeley students. He suggests students take at least one course in entrepreneurship, learn keyboard shortcuts, and maintain a clear divide between your work and personal life. But most importantly, Myers stresses the value in recognizing the interconnectivity of all fields in the world of business and exploring what lessons can be taken from them and applied to your own profession.
"I have spent the most time in finance and entrepreneurship courses, but the overlap and intersection between all functions of business is always apparent. I think this approach to business, for me, is one reason why management consulting resonates deeply with my interests and abilities," Myers added. 
After four exciting years of experiencing so much of what TCU has to offer, Myers attributes a large part of his success to two people.
"There is no doubt in my mind about where my successes have come from: my parents who need to hear these two words more – thank you."
Read Myers' full Best & Brightest feature story here.
Read about our other 2022 Poets&Quants Best and Brightest Senior Cassie Trosino here.