The Dallas 500 is a special annual edition of D CEO magazine that celebrates the most influential business leaders in North Texas.
January 15, 2020
By Elaine Cole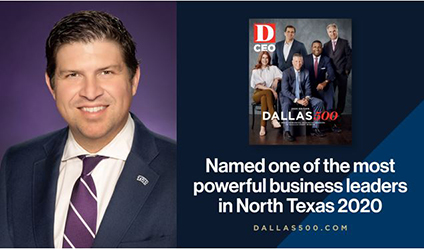 D CEO, the business title of D Magazine Partners, has published the 2020 edition of the Dallas 500 featuring the 500 most influential leaders in North Texas.
Daniel Pullin, the John V. Roach Dean of the TCU Neeley School of Business, is featured among the most powerful top executives in more than 53 business categories. 
The 172-page publication provides an engaging, personal look at people at the top of their game. For 2020, 336 of last year's Dallas 500 are back, including Mark Cuban, Ross Perot Jr., Lyda Hill and Jerry Jones. That means 164 new people were added, including Dean Pullin.
"Making the Dallas 500 is no easy feat in a market as large and vibrant as North Texas," said D CEO Editor Christine Perez. "Those featured in our 2020 edition are at the best of the best; they play an integral role in driving the local economy."
Along with toughest challenges and strategies for success, Pullin shares his favorite things, first job, favorite movie, what he'd tell an 18-year-old version of himself, and other fun facts.
To learn more about the Dallas 500 and order copies of the book, visit www.dallas500.com.