The TCU Neeley School of Business is serving as a hub for internship collaboration this summer with companies near and far, including Dell Technologies. In this multi-part series, we highlight the impact of summer internships at TCU.
August 04, 2021
By TCU News
In person, online and from campus, TCU Neeley School of Business student interns are gaining a wealth of hands-on, real-world experience with some of the most respected companies in the world. Amazon, Bain & Company, BNSF Railway, Citibank, Credit Suisse, Goldman Sachs, McKesson Corp., Microsoft, Nike and Samsung are some of the powerhouses being added to Horned Frog résumés this summer.
While some internships are in person, others remain remote — including many housed on campus at the TCU Neeley School.
"Part of the vision when building the new Neeley School was that the space would be used as a crash space between students and the business community. While we didn't envision a global pandemic and students having to conduct internships 100% virtually, it was an easy decision on how to pivot the space usage," said Jessica Cates, director of the Alcon Career Center at the TCU Neeley School.
This summer, Neeley students are using interview rooms, team rooms and collaboration spaces to work.
Here's a look at "Dell's 'Neeley Campus," the first in a multi-part series about internships TCU Neeley students are taking part in this summer.
Dell's 'Neeley Campus'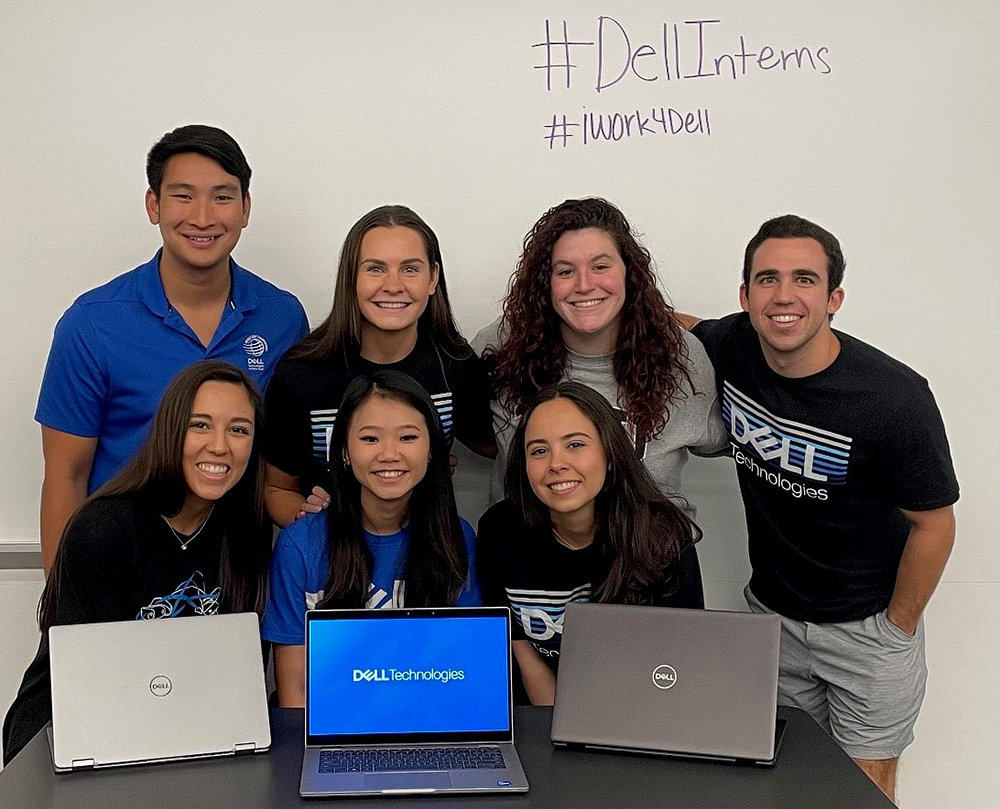 Top: Hien Tran BBA '17 (employee), Cassidy Coughlin (intern), Kasie Haemker BBA '20 (employee) and Kevin Crump (intern).
Bottom: Carla Reyes BBA '20 (employee), Lindsey Lemay (intern) and Paulina Gonzales (intern).
Among those officing at the TCU Neeley School this summer are Dell Technologies virtual interns and full-time employees, who use a classroom in Smith Hall a couple of days a week.
"Dell is a great recruiting partner for the Neeley School. They are very active in hiring and other engagement — case competitions, classroom projects, etc. TCU Neeley alum Hien Tran was brainstorming ways to get their virtual interns together and we had the space," Cates said.
Dell's culture is one of the biggest reasons people want to work for — and inevitably stay at — Dell, said Tran, supplier diversity and innovation program manager at Dell, who earned his BBA in supply and value chain management and entrepreneurial management in 2017.
"We — Dell TCU alums and the recruiting team — wanted to give our interns and recent-grad full-time hires an opportunity to have a sense of the Dell community and replicate some sort of 'normal' working environment that is representative of 'Dell culture.' So we reached out to the great team at the TCU Neeley Alcon Career Center to assist us in coordinating these working sessions," Tran said.
At peak times, as many as five interns and four full-time Dell team members are working together in space at Smith Hall. While not sponsored or endorsed by Dell Technologies, the informal gathering space simply provides an environment for TCU students and alumni working remotely for Dell to share office space, collaborate and interact.
"Dell's culture is people centric with a focus on development. Being in person during this tough time where we have gone virtual allows interns/team members to be able to lean on one another, support one another and further develop relationships in person rather than just through virtual mediums," Tran said.