This summer, TCU Neeley students are interning across industries. While some internships are in person, others remain remote. In this third story of our multi-part series, business students Nolan Dearborn, Michael Phillips and Kristen Fernando share their internship experiences.
August 18, 2021
By TCU News
Virtually, from Home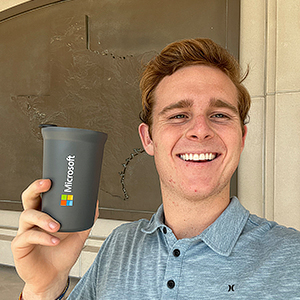 Nolan Dearborn, a senior business information systems major from Orange, California, is working remotely from his house in Fort Worth as a summer intern on Microsoft's account management team, focusing on implementation orchestration for its enterprise customers.
"My team works with some high-level customers like Disney, Tesla and Facebook, where we'll build proactive programs to ensure their cloud adoption journey goes as smoothly as possible," Dearborn said.
Projects include building a power app to provide the account team with curated financial information about customers, composing an implementation plan to upgrade a customer's cloud security features, and orchestrating a mentorship program for more than 150 employees in his region.
"I'm learning how to best deal with ambiguity, stand out in such a high-performing environment and communicate with heightened levels of professionalism. I was worried that at such a big company, I'd get lost in the crowd. I can confidently say that hasn't been the case — but instead I've done more than I could've imagined and I still have a month left," said Dearborn, who is looking forward to joining Microsoft full time following spring graduation.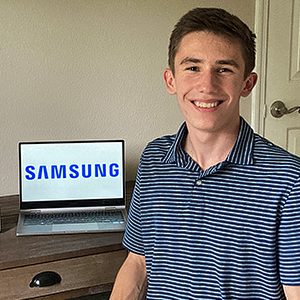 Michael Phillips, a junior marketing major, is interning remotely for Samsung Electronics America from his home in St. Charles, Illinois.
As an intern on the New Computing Product Management team, Phillips analyzes consumer perceptions surrounding various display technologies and creates strategic marketing and branding initiatives. For example, he explored how consumers view AMOLED technology, a type of display technology used in smart phones, tablets and PCs.
The experience is helping Phillips develop his communication, interpersonal and presentation skills.
"I have learned how to think strategically and analytically, utilizing a variety of technical programs. Each day, I am surrounded and guided by inspiring and influential leaders, allowing for rapid growth and development. At Samsung, collaboration is key to success, and working with new individuals requires constant learning," Phillips said.
Hybrid Intern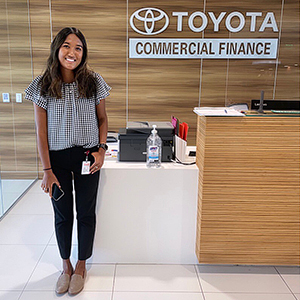 Last summer, Kristen Fernando, a junior business information systems major in the John V. Roach Honors College from Southlake, Texas, served a virtual internship with Toyota Industries Commercial Finance (TICF). This summer, she returned to TICF in a hybrid internship.
"The opportunity to experience the Toyota culture in person is something for which I am grateful. Meeting with others in person has been a great experience. I have built numerous connections via Teams, but nothing compares to interacting in person," Fernando said.
Last summer, she was a commercial finance intern, and this summer she is a data analytics operations intern.
"Although I am at the same company, each experience is unique, and together has taught me the importance of evaluating risks and opportunities. Ultimately, these internships and my time at TCU have influenced me to pursue a career where I can be successful, give back to society and make a difference in the world," Fernando said.