Six TCU MBAs are working on projects for the Fort Worth Chamber of Commerce to address the restaurant industry, entertainment industry and employee engagement. For free.
July 08, 2020
By Elaine Cole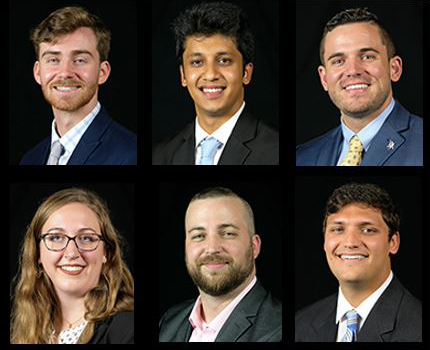 In the middle of a pandemic and recession, how you react says so much about your leadership, work ethic, flexibility and commitment. While others might sit out a summer without internships and with no real repercussions to their resumes, these six TCU MBAs didn't take their setbacks sitting down.
Ryan Edwards, Rohan Tiwari, Connor Vaccaro, Kaitlin Sanders, Kyle Flottman and Nick Byrne went to work for the Fort Worth Chamber of Commerce, pro bono.
"As MBA students at the Neeley School of Business, we are taught skills to adapt to changing times. When COVID-19 hit and the internship environment changed, we took it in stride and turned our focus to providing value where we could. We partnered with the Fort Worth Chamber of Commerce to translate our effort into value for the small business community," Edwards said.
Abbie Shipp, professor and chair of the management and leadership department, said it was "heartbreaking to watch the economy impact our talented students," but given their success working as Neeley & Associates MBA Consultants in 2019, "we knew they could adapt to challenges by pivoting their attention to economic recovery for the Fort Worth business community."
In May the six TCU MBAs met virtually with Chris Strayer, executive vice president of economic development for the Fort Worth Chamber, and Netty Matthews, vice president of economic development, to form a plan.
"We're thrilled to partner with TCU MBAs in this effort benefitting the Fort Worth business community," Strayer said. "Their research will help shape our tools and resources as we continue to assist businesses beginning to open back up amidst the COVID-19 pandemic."
Edwards, Tiwari and Vacarro are concentrating on locally owned restaurants. Sanders, Flottman and Byrne are focusing on the local entertainment industry. Edwards also is working on employee engagement strategies. 
And they aren't alone.
LaTanya Johns, director of Graduate Career Services, and Ed Riefenstahl, director of experiential learning, are helping Shipp guiding the teams. Mark Houston, professor of marketing, and Ken Weitzel, adjunct professor of management, are subject matter experts for the restaurant team. Yash Bhagwat, assistant professor of marketing, Bob Leone, professor of marketing, and Michele Gagne, adjunct professor of project management, are experts for the entertainment team. Edwards is consulting with subject matter experts David Allen, associate dean and management professor, and Ann Bluntzer, associate professor of professional practice in management. Two members of the experiential learning advisory board are serving as coaches: David Coburn, principal at Traverus Consulting, and Christine Kalish, president and CEO of Brittain-Kalish Group.
The TCU MBA teams began their projects in June and will present their findings and provide their recommendations in August. 
"I am excited to see the impact our work will have on our community," Edwards said.