Hernandez is the first TCU MBA to be honored as an Albert Schweitzer Fellow, named for the famed physician-humanitarian.
December 13, 2019
By Elaine Cole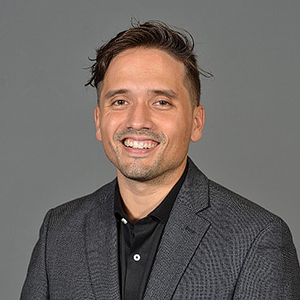 The Albert Schweitzer Fellowship has selected TCU MBA Michael Hernandez as a Schweitzer Fellow, one of only 10 graduate students in the Dallas-Fort Worth area chosen for the Fellowship, and the first from the TCU Neeley School of Business.
Hernandez is among 10 DFW Albert Schweitzer Fellows for 2019-20, including TCU graduate student Eric Gobel, who is pursuing his doctoral degree in education. Each Fellow will develop and implement service projects that address the root causes of health disparities in under-resourced communities, while also fulfilling their academic responsibilities.
Hernandez's program is housed within Opening Doors for Women in Need to help men and women in the Como Neighborhood gain steady employment and develop job skills. In addition to providing workshops and coaching to help them with the application process and develop strong job skills, Hernandez is providing practical tools such as budget management and other financial skills. He also is reaching out to neighborhood businesses to encourage more hiring of people who live within the community.
The Schweitzer Fellowship teaches Fellows to both innovate and lead, and allows them to learn from the community as well as other fellows in their cohort. The program is a collaboration between SMU, TCU, Baylor, University of Dallas, UT-Arlington, UT-Dallas and the UT Southwestern Medical Center.
Upon completion of their Fellowship year, the 2019-2020 DFW Albert Schweitzer Fellows will become Schweitzer Fellows for Life and join a network of more than 3,400 Schweitzer alumni who are skilled in and committed to addressing the health needs of underserved people throughout their careers.
2019-2020 DFW Albert Schweitzer Fellows
Michael Hernandez, Neeley School of Business, Texas Christian University 
Eric Gobel, College of Education, Texas Christian University 
Leah Carter, UT Southwestern Medical Center
Isabel Garcia, UT Southwestern Medical Center
Esha Hansoti, UT Southwestern Medical Center
Merin John, UT Southwestern Medical Center
Rosalind Ma, UT Southwestern Medical Center
Hasan Seede, UT Southwestern Medical Center
Gabriele Slaughter, UT Southwestern Medical Center
Morgan Grant, Texas Women's University
Past TCU Albert Schweitzer Fellows
Whitnee Boyd, TCU College of Education, 2015-16
Brandy Schwarz, TCU College of Education, 2015-16
Krystal McDaniel, TCU Harris College of Nursing and Health Sciences, 2017-18
Senani Perera, TCU Harris College of Nursing and Health Sciences, 2017-18