Daniel Pullin, the John V. Roach Dean of the Neeley School of Business, is honored among the Metroplex's most significant and powerful leaders by Fort Worth Inc. and D CEO magazines.
October 07, 2020
By Elaine Cole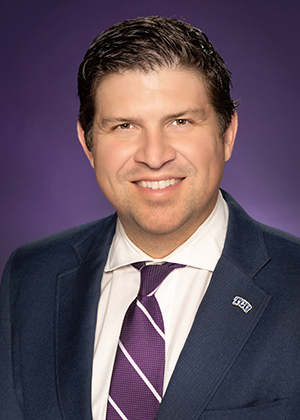 Significant influence in industry and education. Powerful top executive. Daniel Pullin, the John V. Roach Dean of the Neeley School of Business, is featured for both in top lists compiled and published by popular DFW magazines.
The Fort Worth 400 is Fort Worth Inc.'s compilation of 400 of the most influential people in Tarrant County who wield significant influence in industry, philanthropy, nonprofits, government and public policy, economic development, professional services, education, civic affairs, arts, religion, sports, and media, or within their own spheres.
Dallas 500 is a special edition of D CEO that celebrates the most influential business leaders in North Texas. It is the result of a year-long research initiative by the editors of D CEO, who base selections on extensive contacts in local business circles and hundreds of interviews. Dallas 500 features insightful profiles about their toughest challenges, strategies for success and other details for a personal, engaging look at the leaders who make Dallas-Fort Worth's economy tick.
Pullin holds a Juris Doctor degree from the University of Oklahoma and an MBA from Harvard Business School. He previously served as dean of the OU Price College of Business. He is an active member of numerous professional boards and advisory groups.
Pullin joined TCU Neeley in June 2019 and has quickly made an impact on higher education and the business industry in the Metroplex. He speaks at numerous business events, panels and webinars, makes important decisions for the Neeley School of Business, and even finds time to teach classes on entrepreneurship and the legal aspect of business.
"For my family and me, it feels like we've always been Horned Frogs. The outpouring of support we have received from dedicated leaders in the DFW Metroplex have made us feel right at home," Pullin said.