Dr. Sunder, an award-winning marketing professor, is lauded for his innovative research and popularity among TCU students.
May 13, 2021
By Nathan Allen
Sarang Sunder, Associate Professor of Marketing at the TCU Neeley School of Business, is among an exclusive list of top professors from leading business schools in the Poets&Quants 40 Under 40 Business School Professors of 2021.
With more than 300 Google Scholar citations, Sunder is an accomplished researcher at just 35 years old. But what put Sunder over the top is his popularity among MBA students at TCU. Sunder has won the "Favorite Professor" award, voted for by TCU MBA students, for the past three years. He's also won multiple research and writing awards.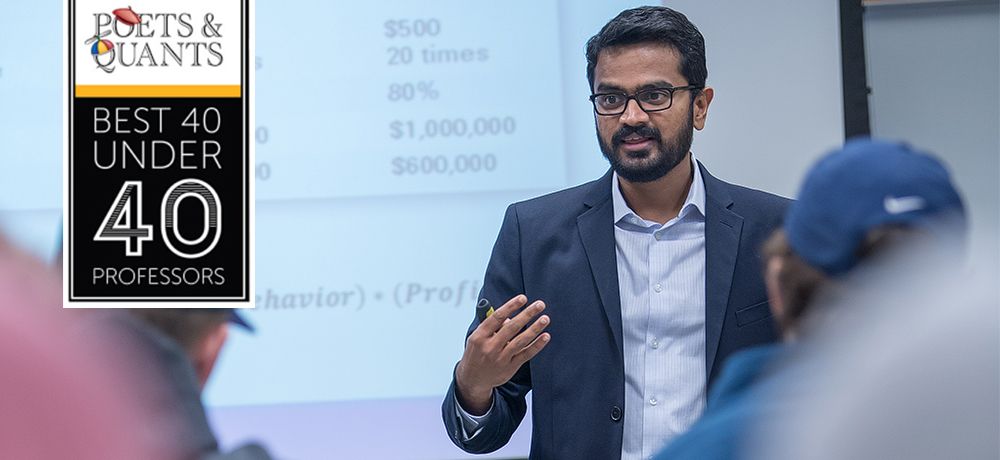 Specializing in customer relationship management, many students and alumni complimented Sunder's ability to teach CRM and his personal approach to teaching.
"My work broadly uses econometric techniques to answer managerially relevant marketing and public policy questions," Sunder says of his research. "My most recent work published in Marketing Science investigates the unintended consequences of an often-used public policy instrument (e.g., usage restriction bans) aimed towards curbing excessive/addictive behavior."
View Sunder's Best 40 Under 40 profile here.