Community builder. Inclusive leader. Trailblazer. Neeley Fellow Rasaan Hatcher reflects on his experience and accomplishments at TCU, and shares what's next in his journey.
December 08, 2021
By Erin Smutz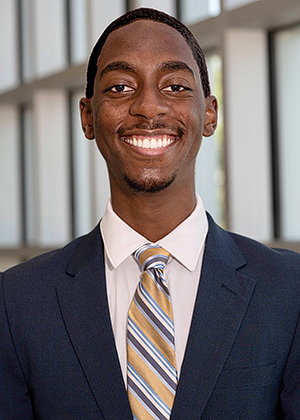 Rasaan Hatcher, a business information systems major at the TCU Neeley School of Business and John V. Roach Honors College student, came to the business school with a desire to invest in his personal growth and potential. Now a senior, Hatcher shares how academics, community involvement, extracurricular initiatives and mentorship opportunities shaped him into the leader he is today.
Why did you choose to attend TCU Neeley?
RH: When I was meditating upon what my future would entail as a senior in high school, I saw myself attending a business school that would maximize my potential and help me grow as person. After doing some research, I came to the conclusion that TCU Neeley was the place for me, knowing that the business school would personally invest in me, provide the technical skill sets needed across industries, and help me become an ethical leader in today's society. I felt confident that the Neeley School would ensure my success as long as I vowed to be a humble student, work hard and apply myself. The Neeley School is nationally ranked, has an amazing reputation on behalf of the students that graduate and has a reputation for holding true to their promise.
Tell us about your involvement during your time at TCU Neeley.
RH: I'm very involved with the TCU student chapter of the National Association of Black Accountants (NABA). I was a charter member and served as vice president during the chapter's launch, and then as president during my junior year. My journey with NABA has supported my personal growth, expanding my insight into what it means to advocate for other students and ensure others benefit from your existence. I'm also part of Neeley Fellows and the program has been amazing to me. I've enjoyed our cohort experiences through classes, trips, labs and more – we've created our own family. I joined the Courageous Conversations Book Study through the TCU Neeley Office of Inclusive Excellence, which provided an opportunity for me to reflect and determine how I could become a leader focused on equity and inclusion.
In addition to my TCU involvement, I had the pleasure of working for Aldi USA as a district management intern for two summers in a row and served as an Aldi ambassador for two academic years. My internship experience was phenomenal, applying what I learned about leadership from TCU Neeley to the real world. I was overjoyed when I realized how serious the business school is about preparing students for their careers.
Tell us about your proudest accomplishments while at TCU Neeley.
RH: I'm very proud of chartering a student chapter of the National Association of Black Accountants at TCU. I had no idea what it would turn into, but I knew it was something that TCU needed in order to ensure all students have equal opportunities. We were also selected as the 2020 Chapter of the Year for the Western Region. NABA's motto, "Lifting as we climb," represents the true spirit of teamwork and leadership that I have strived to embody in my undergraduate career in relation to my peers. Chartering NABA also got the ball rolling for other inclusive initiatives, including Suit Up – Lead On, the TCU Neeley Office of Inclusive Excellence and the JPMorgan Chase Inclusive Excellence Mentoring Program.
Becoming a Neeley Fellow is also a major accomplishment for me, as this program has a reputation for selecting exceptional students. It's been my mission to uphold the program's reputation while also looking for ways to contribute. For instance, I gave a TED talk on a local mutual aid community fridge, Funky Town Fridge. With this talk, I inspired my classmates to take a trip and fill it up. That truly made my heart warm because we made a tangible change in the community.
What's next? 
RH: I'll graduate with my BBA in May 2022 and then I plan to pursue my MS in Business Analytics at TCU Neeley. I'm excited to continue my education and take a deeper dive into analytics. The MSBA program is the perfect complement to my undergraduate degree.
What will you miss most about TCU Neeley?
RH: Thankfully, I will not be leaving just yet since I'll be pursuing my master's degree, but it is without a doubt that I will miss the amazing faculty, staff and school leadership. They've inspired me to be audacious in my dreams, solution-oriented and to think unconventionally. My professors and advisers have made TCU Neeley feel like a home throughout my time here. I will also miss Professor Ann Tasby, who has been undying in her mentorship and assistance to ensure my success. I wouldn't be the same student and young professional that I am today without her guidance.