Most people don't think of law enforcement when they think of a business degree, but one sergeant in the Fort Worth Police Department is making waves with the skills and knowledge she gained in the TCU Neeley Executive MBA program.
July 09, 2016
Most people don't think of law enforcement when they think of a business degree, but one sergeant in the Fort Worth Police Department is making waves with the skills and knowledge she gained in the TCU Neeley Executive MBA program.
Uncovering the Police-Training Gap
When Amy Ladd, class of 2015, made sergeant in the Fort Worth Police Department in 2012, she had a startling revelation: There was no training available for her rank.
Amy was now responsible for a team that covered a 54-square-mile area. Sure, she had more than eight years of experience as a uniformed police officer and another seven as a detective, working violent crimes including crimes against children, sexual assault and officer-involved shootings. And she held a double bachelor's degree in psychology and criminal justice from Dallas Baptist University. But knowing how to be an officer is one thing; knowing how to lead them is another.
Determined to make a difference, Amy transitioned into the training unit, yet wasn't confident she had the credibility or the skills to implement a new program.
Going Back to School
After enrolling in Tarleton State University's master's program, Amy thought she was on her way, until she ran into her longtime friend and colleague, Jeremy Spann, who told her about the Executive MBA program he was attending at TCU. He was so passionate about it and how it could help Amy make changes in the FWPD, Amy decided to attend a preview luncheon on strategy and vision featuring Dr. Suzanne Carter, executive director of the TCU EMBA program.
"I was completely sold," Amy said.
She switched to the TCU Neeley School of Business and it was a perfect fit: the classroom setup, peer learning, business perspective and emphasis on leadership through personal development.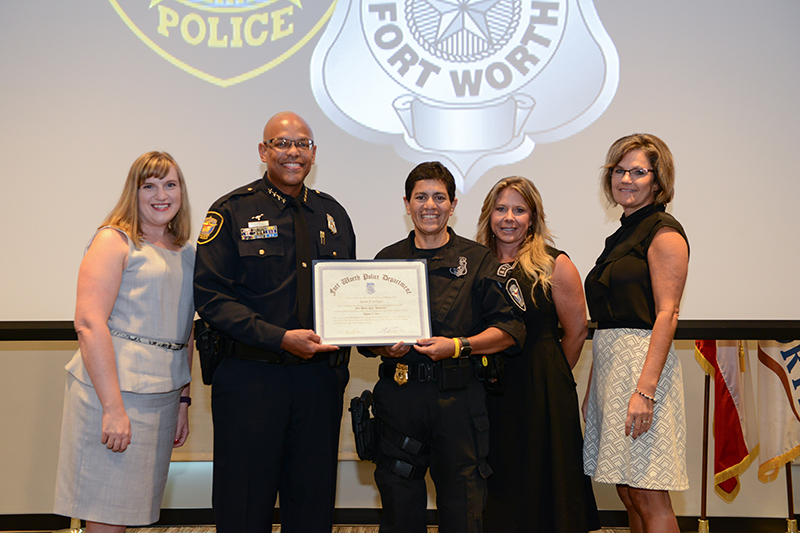 (L to R) Dr. Stevie Dawn, Chief Joel Fitzgerald, Sgt. Rachel Dehoyas, Sgt. Amy Ladd, Dr. Linda LaCoste.
From Class Project to Real Program
Amy started developing the FWPD leadership development program while at TCU Neeley as a group project with EMBA classmates Kevin Grace, Dustin Dvorak and James Fair. The chance to do real work in the classroom and get feedback from her classmates and professors was invaluable.
She surveyed the different FWPD departments for data and honed in on the rank of sergeant because it covers the most personnel: 150 sergeants supervise more than 1,600 people in the FWPD. She also searched for partners who could help her with the academic and coaching side of the project. Dr. Stevie Dawn and Dr. Linda LaCoste were happy to jump in.
Stevie, of Stevie Dawn Inspires, is an emotional intelligence expert with a doctorate in leadership and a master's in sociology. Linda, director of student services and operations for the TCU EMBA program, holds a doctorate in higher education administration.
The moment of truth came when Amy presented the program to the FWPD executive staff, something she'd lacked the confidence to do before. Now she was armed with a detailed plan built on department data, national curriculum trends; and the combined expertise of her classmates, professors and her own experience.
Impressed by her presentation and infected with her enthusiasm, Fort Worth Police Chief Joel Fitzgerald and the FWPD executive staff adopted the program and offered to include course credit, which is valuable for earning promotions.
The New Program in Action
The FWPD leadership development program includes eight weekly four-hour sessions with a focus on emotional intelligence. Frontline supervisors gain new leadership skills as well as a big-picture perspective. One-on-one coaching and 360 assessments help them improve their personal strengths and weaknesses. Afterwards, eight weeks of mentoring with a lieutenant or higher helps them build communication and trust among the ranks.
The first class of 17 sergeants graduated at a ceremony on Aug. 17 as exceptionally qualified leaders who can contribute to the safety of Fort Worth better than ever before.
"When you better prepare your supervisors to do their job, they feel more confident, have more trust in their own department and are able to tap into resources they didn't have before," Amy said. "That helps them leave a positive footprint every time they come into contact with citizens."
"I walked away with a renewed sense of dedication to being a sergeant and a leader," said Sgt. Rachel Dehoyas, one of the graduates. "The group discussions were very animated and involved, and I got the most benefit from sharing what we had learned through our leadership failures, not our successes."
"I encourage the department to offer this training to all supervisors who want to become better leaders," Sgt. Troy Lawrence said.
Next, Amy plans to adapt the program for lieutenants. She isn't shy about crediting the TCU EMBA program for giving her the tools she needed to make it all happen.
"The TCU EMBA program has completely changed my life," Amy said. "Walking in, in some ways I was a shell of a person, and walking out, I felt like I could move mountains."
Is the Neeley EMBA program right for you? Find out.