Combining learning with immersive experiences, the Global Digital Innovation course included company visits, tours of iconic British sights, guest lectures and networking with Horned Frogs working across the pond.
July 05, 2022
By Rachel Stowe Master
After completing assigned readings, independent research and group projects, 24 TCU Neeley School of Business students, traveled abroad to see firsthand multiple ways London companies large and small are implementing digital innovation. The students, who represent a mix of majors, also heard directly from fellow Horned Frogs about the advantages and challenges of working internationally.
TCU Neeley students were led by Beata Jones, professor of business information systems practice, and Daniel Chen, professor of information systems and supply chain management. The experiential Global Digital Innovation course took the students to London in May to explore the convergence of business and information technology, including the impact of globalization on digital innovation, the societal consequences of digital technologies, the changing nature of work and life in digital economies and new business models enabled by digitization.
"From small, mom-and-pop startups like StreetHunt Games that implements scavenger hunts around London to multinational food company Danone that is implementing new business models through digitization of business, we learned in detail about the benefits and challenges of business in the new economy," Jones said.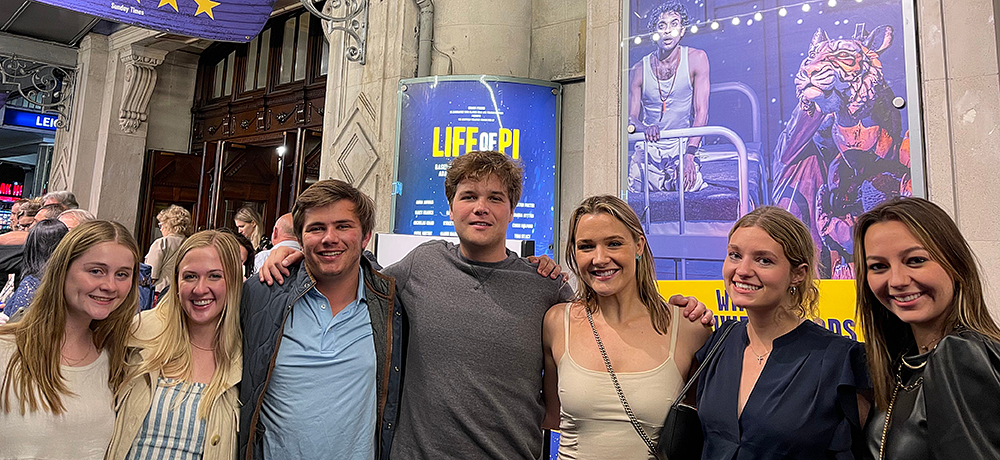 Students heard from professionals across industry at site visits to insurance marketplace giant Lloyds of London; English professional football club Fulham FC; retail and hospitality IT consulting firm LOKE Global; reusable container company Junee; and the Institute of Economic Affairs, a U.K. free-market think tank. Guest speakers from the Oxford Internet Institute and the Kellogg College, both at the University of Oxford, as well as transport operator FirstGroup Plc offered additional insight on digital innovation.
TCU Neeley students also enjoyed walking and bus tours throughout London, a visit to Parliament, a Life of Pi theater performance, day trips to Oxford, Stonehenge and Bath, as well as time to explore on their own.
Moreover, they witnessed the strength of the TCU network, which opened doors to additional company visits and an opportunity to network with fellow Horned Frogs at an official TCU alumni event at the Crown Tavern, a popular London pub.
"Due to a rather large TCU alumni base in London, we were also able to offer business visits to Ford Credit Europe and Salesforce, and our students shared a meal and gained invaluable insights from the London TCU alumni about living and working abroad," Jones said.
"When I was a student, it was often 'hard to be what I could not see.' Knowing where other alumni have gone and the jobs they do helps expand your mindset on what jobs, industries and countries you can pursue with your Neeley education," said Rovina D'Souza '11, director of sales strategy at Salesforce, a cloud-based software company, who hosted an office visit.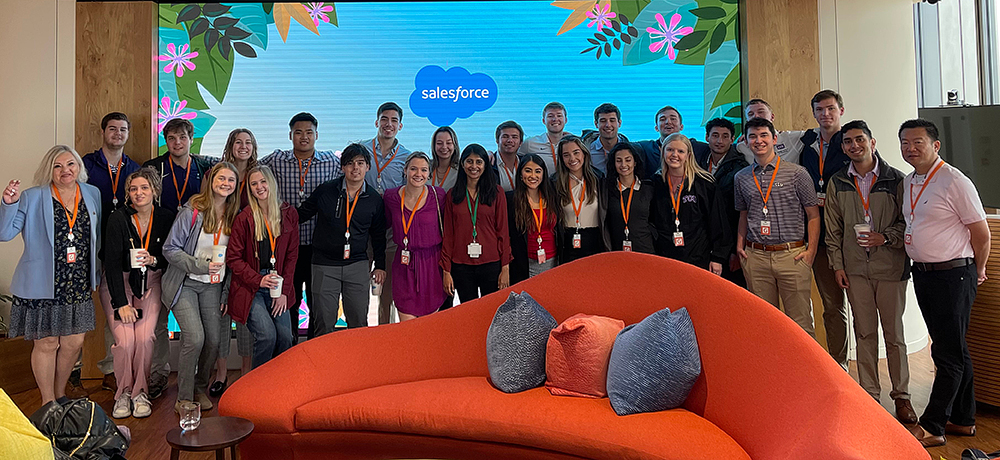 "It's a really great opportunity to connect and network with alumni and to visit companies in London and other countries — that was one of the experiences that spurred my interest in an international assignment," said Ford Credit Europe CEO Carlos Treadway PMBA '05, who visited Italy during his TCU Neeley Professional MBA program. He spent close to seven years in China, the last role as president of Ford Automotive Finance in China before relocating back to the U.S. and then to London with Ford Credit Europe in 2021.
Treadway and his team shared how Ford and Ford Credit are focusing on the customer and transforming the business, especially the digital experience.
"It was a really engaging group of students who have clear points of view about business, especially related to e-commerce, digital, marketing and sales. They wanted to ensure that they were leveraging this experience for learning," he said.
The Ford Credit Europe visit was a trip highlight for Rachel Hamil, a junior business information systems and global business major from Woodbury, Minnesota, who enjoyed learning about the processes of digitizing and revolutionizing the car purchasing and payment experience.
"Virtual reality to test drive cars, electronic or crypto payments, and shifting from car salespeople to a virtual assistant were several of the ideas and implementations that we could see in the future," she said. "Most of us had little or no knowledge on the credit side to Ford, and hearing from the different department members was insightful — there is so much to the business that the customer doesn't think of, even when they're purchasing a vehicle from Ford."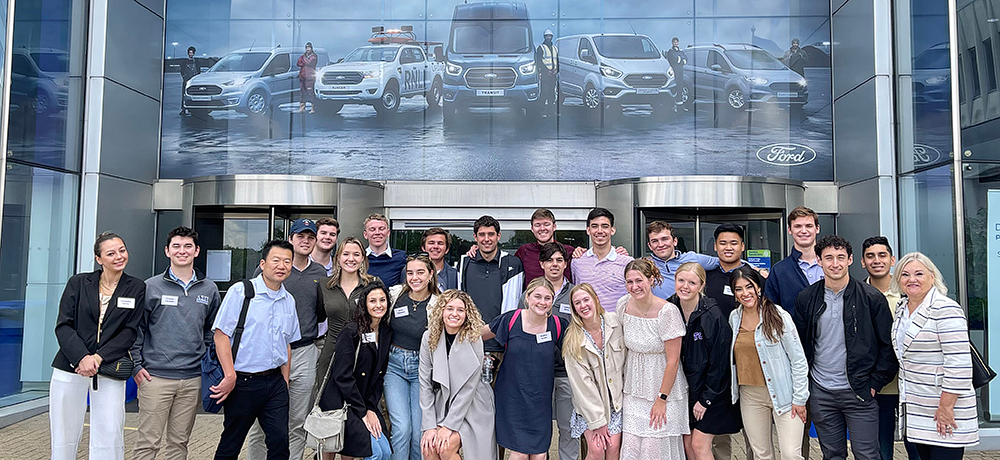 Hamil also enjoyed learning about Treadway's career.
"He has had so much global business experience. It was eye-opening to hear the trials and tribulations that come from working internationally, especially with managing the expectations and needs with a family. We learned a lot about the lifestyle balance that needs to be considered, especially for those who might not fully understand the flexibility that an internationally focused career might require of you," she said.
Since high school, Hamil has wanted to study abroad, but fitting it in during a regular semester proved challenging. The culturally immersive two-week "May-mester" format was ideal.
"I made a deeper network within Neeley and expanded my TCU network with alumni. I got to meet Horned Frogs from across the pond and hear their experience with moving to London and how TCU and Neeley equipped them to be global citizens. Outside of TCU, I got to meet other business professionals who are native to England and learn more about the cultural side of business from them," she said.
Building TCU Neeley students' global business knowledge through strategic outreach with alumni working internationally and global corporations helps fuel their innovation and future professional success, Jones noted.
"Even local businesses are affected by the global economy, so learning about aspects of global business is vital for our students to be able to succeed today," she said. "Additionally, as students develop their intercultural competence and knowledge while studying abroad, developing professionally, they become more marketable upon graduation."