Knowing their city's businesses were facing economic hardships due to the pandemic, six TCU MBAs put their skills to work for the Fort Worth Chamber, pro bono, to help them.
September 17, 2020
By Elaine Cole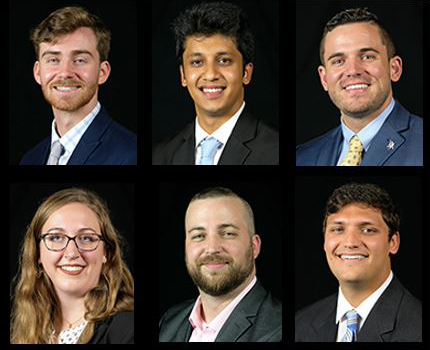 Their city needed them, so Ryan Edwards, Rohan Tiwari, Connor Vaccaro, Kaitlin Sanders, Kyle Flottman and Nick Byrne partnered with the Fort Worth Chamber of Commerce to help the local small business community in the midst of the pandemic.
As pro bono consultants, they focused their attention on economic recovery for the Fort Worth business community.
"Community partnerships with institutions like TCU are extremely valuable in providing information and resources to our local business community," said Chris Strayer, executive vice president of economic development for the Fort Worth Chamber of Commerce.
At the beginning of the summer, the TCU MBAs met with Strayer and Netty Matthews, vice president of business engagement. They then formed two teams to focus on the local restaurant industry and entertainment industry, and spent the summer researching pandemic-related issues and solutions for those small businesses. They presented their findings to Strayer in August.
"We were extremely impressed with the amount of data and research presented. We learned there are several areas our restaurants and event venues need guidance in as they continue to navigate this pandemic," Strayer said.
The Chamber recently hired Ryan Edwards as a paid intern. All of the TCU MBAs working on the projects are actively seeking fulltime employment upon graduation in May 2021.
Here are the findings and recommendations from their research.
Fort Worth Restaurants - Ryan Edwards, Rohan Tiwari, Connor Vaccaro
Edwards, Tiwari and Vaccaro interviewed more than a dozen local stakeholders, surveyed 30 additional restaurant owners/operators, and analyzed news stories and other data sources to research issues facing independent restaurants in the wake of the pandemic.
They identified three key issues:
Lack of digital presence for many restaurants.
Need for innovative thinking to stay in business and pay staff.
Information overload and confusion about restrictions.
"Many small businesses lack the digital tools to thrive," said Tiwari. "Of the restaurants we surveyed, 35% didn't have online ordering systems. All of them had difficulties with third-party delivery and social media platforms."
The TCU MBAs suggested the Chamber form a division devoted to teaching and supporting online transformation, including how to interact with third-party delivery systems, how to set up online ordering, how to use social media and more.
The team also found that restaurants needed innovative ideas to stay in business and keep staff employed.
"The traditional restaurant operating model may no longer be viable, especially as they face indefinite restrictions on dine-in capacity, uncertainty about long-term consumer behavior, and the need for immediate cash flow to stay afloat," Edwards said.
The team suggested initiatives such as "ghost kitchens" with no dine-in seating, donation-based programs to provide meals to food banks to make enough money to pay staff, and developing more outdoor eating spaces. 
To combat information overload from different sources, they suggested streamlining information through the Fort Worth Now website.
"Restaurants are getting information from a variety of channels that aren't all providing the same messages," said Vaccaro. "They need real-time, correct information and updates, in one place."
Fort Worth Entertainment Venues - Kaitlin Sanders, Kyle Flottman, Nick Byrne
Sanders, Flottman and Byrne surveyed members of the Fort Worth Chamber of Commerce and also via social media, and received 354 responses, an impressive 23.92% response rate. They assessed the comfort and willingness of consumers to attend a variety of event venues, plus key safety precautions businesses can take to maximize consumer comfort and attendance.
Their key findings:
65% of respondents would be more comfortable attending an outdoor event
53% stated that a mask requirement is essential for them to feel comfortable
52% stated that enforced social distancing is essential for them to feel comfortable
"Our findings suggest that consumers want to get out of their homes to seek entertainment, and are eager to engage with the community and support the businesses that make Fort Worth great. However, this will only happen if they feel comfortable and confident in this new environment. This will require clear, constant and consistent communication from businesses to show that they hear and are acting on consumers' concerns," Sanders said.
"We recommended that entertainment venues make their health and safety efforts highly visible to their customers," Flottman said. "It's important for venues to align their efforts with the comfortability of their key consumers."
"We also suggested that venues and events get creative and find ways to move events outdoors," said Byrne.
"With a clear preference for events outside over inside, businesses should consider this as a growth opportunity for the foreseeable future," Sanders said.
The TCU MBAs were mentored by experts from the TCU Neeley School of Business: Ed Riefenstahl, director of experiential learning, LaTanya Johns, director of Graduate Career Services, and Abbie Shipp, professor and chair of the management and leadership department.
"Given their success working as Neeley & Associates MBA Consultants in 2019, we knew these TCU MBAs would bring value to the Fort Worth Chamber of Commerce and the greater Fort Worth business community by turning their attention to economic recovery," Shipp said.