Not all the Big 12 competitions are on the court, diamond or field. A team of super-smart TCU MBAs won the 2019 Big 12 MBA Case Competition for record-breaking back-to back wins.
April 03, 2019
By Elaine Cole
For the first time in the 13-year history of the Big 12 MBA Case Competition, a university took home the grand prize two years in a row: TCU.
The record-breaking TCU MBA team took the winning 2018 trophy to the competition and brought it back again for 2019, along with the First Place prize of $5,000.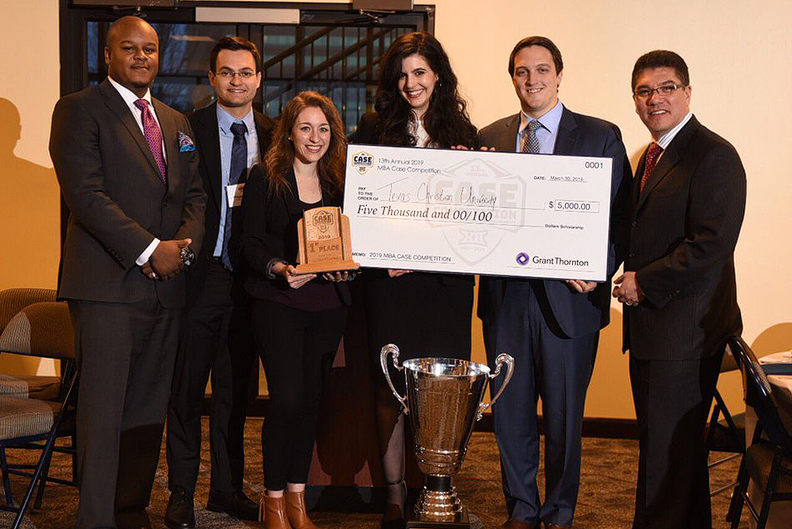 Rachel Manthei, Claire Lukeman, Nathan Brasher and Thiago Farias knocked it out of the park at the competition held at the Chambers School of Business and Economics at West Virginia University. 
Manthei was also on the winning TCU MBA team for the 2018 Big 12 MBA Case Competition. 
"After participating as a first-year MBA on last year's winning team, I was proud to go back with another great team and bring home the cup again," she said.  
A senior executive with Grant Thornton, which provided the case and prize monies, told the team he would hire all of them. 
Each Big 12 team in the fast-paced competition analyzed a business case presented by Grant Thornton, and then presented their recommendations to two panels of judges, one in the morning and one in the afternoon. 
"The case focused on what government contractors should do during a government shutdown, so it was an excellent opportunity to better understand how government and businesses interact," Manthei said. "We leveraged our diverse backgrounds to create a winning solution."
The TCU team was coached by TCU MBA Andrew Kay to hone their teamwork and presentation skills before the competition.