The TCU Neeley MBA and undergrad marketing major were honored as strong, driven, entrepreneurial-focused students who represents the mission of Texas Business Hall of Fame.
October 30, 2019
By Elaine Cole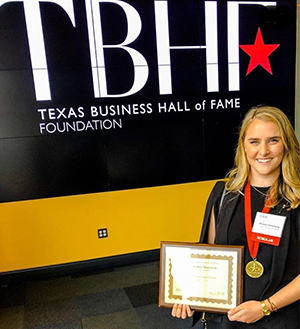 The Texas Business Hall of Fame awarded a $15K scholarship to TCU MBA student Brooke Honcharik and a special award of $15K, the T.T. & W.F. Chao Scholarship, to senior marketing major Maddie Kingsbury.
Each year the Texas Business Hall of Fame awards scholarships to outstanding entrepreneurial college students across the state.
Honcharik is co-owner and director at Moose N Otter Productions, a videography, photography and web design production company in the DFW Metroplex. She is studying for her TCU MBA in the professional, part-time program.
"Many of my accomplishments were obtained only after moving to Texas. I have professors who support me, peers who push me, friends who love me and a place that I am proud to call home," Honcharik said. "Moose N Otter Productions allows me to tell Texans' stories and provide a framework for what makes this place so special. I thank the Texas Business Hall of Fame for supporting my entrepreneurial goals."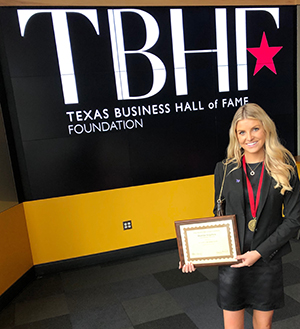 Kingsbury is a senior majoring in marketing and minoring in finance. She has started two companies: a custom college apparel business, Made by Maddie, and a hearing aid app, Sounde. Kingsbury and her TCU Neeley classmates, Devan Peplow and Mavis Tang, won Third Place and $15,000 for Sounde at the 2019 Richards Barrentine Values and Ventures® Competition, out of 56 teams. Values and Ventures is presented by the TCU Neeley Institute for Entrepreneurship and Innovation.
"Receiving this scholarship is very impactful to my entrepreneurial goals because it allows me to make them a reality," Kingsbury said. "It was an amazing experience to see the positive impact of strong business leaders and their inspiring philanthropy, and to be included among the Texas Business Hall of Fame alumni."
Honcharik and Kingsbury accepted their Texas Business Hall of Fame scholarships at an awards ceremony at the San Antonio Convention Center on October 16, 2019.
Past TCU Neeley honorees include Sarah Mitchell BBA '19, Amenemope McKinney MBA '18, Matt Matuszak BBA '17, Stephanie Stare MBA '16, Glenn Decker MBA '15, Gabe Williams MBA '14, Anneke Talsma MBA '13, Daniel Gandarilla MBA '12, Ben Voigt BBA '11, Daniel Graham MBA '10, Justin Anderson TCU '09 and Tim Bates BBA '03 MBA '08.