The TCU MBA team of Lianne Yang, Joe Dickerson, Cadell Alexander, Alejandro Velasquez and Andrew Hicks took first place in the regional competition.
February 10, 2020
By Elaine Cole
The stellar TCU MBA team took on Notre Dame, Indiana, Georgia Tech, Pittsburgh and Brazil FGV to take first place in the regionals of the 2020 Venture Capital Investment Competition (VCIC). 
This was no ordinary competition. In the invitation-only VCIC, students played the role of analysts in a VC firm, assessing real startups with $100MM for potential investment. They listened to the startups pitch, performed due diligence, and then presented an investment strategy to the 18 VC judges. They were judged on due diligence, term sheet (investment reasoning) and partner meeting (demonstrated deep VC knowledge).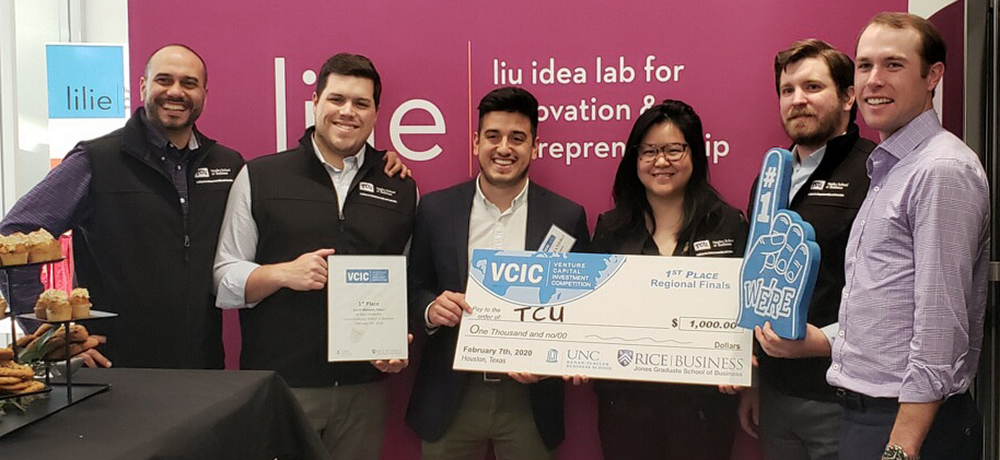 The Institute for Entrepreneurship and Innovation's award-winning Cowtown Angels Fellows program gave the TCU MBA team a distinct advantage.
"Many things came together to make this win possible. The Cowtown Angels Fellowship prepared us with a sophisticated knowledge of deal terms and an advanced framework to guide our due diligence efforts. The entrepreneurial capital course gave us foundational knowledge. Coaching from TCU Neeley alum Les Kreis and mentoring from the investors at Cowtown Angels gave us a competitive advantage," Dickerson said.
"Our familiarity with deal flow and company pitches as Cowtown Angels Fellows gave us more time to strategize as a team during the competition," Yang said. "Our mentors – Les Kreis, Michael Sherrod and Rodney D'Souza – and team captain Joe Dickerson made sure we were all on the same page, and that unified position helped us think quickly on our feet."
Kreis (BBA '94) is managing principal at Steelhead Capital Management and a founding member of Cowtown Angels investment group in Fort Worth. D'Souza is managing director of the TCU Neeley Institute for Entrepreneurship and Innovation. Sherrod is the William M. Dickey Entrepreneur-in-Residence at the TCU Neeley School of Business.
More than 70 universities compete in VCIC regional competitions across the United States, Europe, Canada and India. The first place winner from each regional competition usually advances to the global finals, but the event was cancelled this year.