The competition is virtual. The socially conscious business ideas and $100,000 in cash awards are very real.
March 09, 2021
By Elaine Cole
College students from 64 universities around the world will pitch their unique business ideas to judges in a month-long virtual competition like no other, presented by the Institute for Entrepreneurship and Innovation in the TCU Neeley School of Business.
What makes TCU's Values and Ventures® Competition so unique?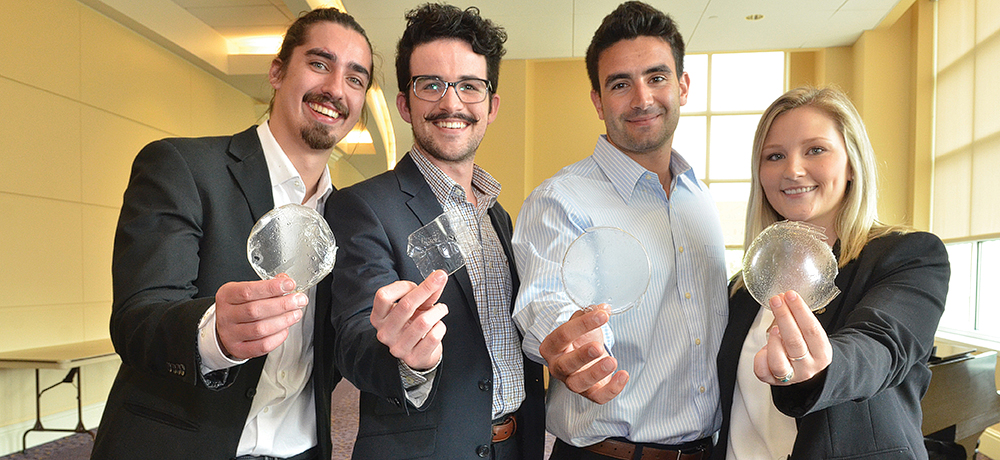 Emphasis on values. Plans presented by students must be for-profit businesses that benefit the community, environment or a specific population. Past winners include biodegradable alternatives to plasticware and straws; standardized autism treatment; and real-time organ transplant communication.
It's big. Undergraduate college students come from all over the world, from Nigeria to Pennsylvania to California to Bangladesh. More than 100 business professionals serve as judges and mentors. That makes the TCU Values and Ventures® Competition one of the largest in the world. See the complete of 2021 universities here.
Investor Challenge, new for 2021. We've added a new opportunity for all participating students to hone their entrepreneurial investment skills. Each student can choose which ventures they think deserve to advance to the finals and win cash awards from judges. The top three "investors" who choose the correct teams win awards themselves.
How it works. For the 2021 competition, each of the 64 teams submits a 90-second video pitch March 10. Judges review the pitches, applications and executive summaries March 12-18 to decide which 32 advance. At the same time, each participant receives a bracket with all 64 teams, plus executive summaries and video pitches, to select which ventures they think will move on in each round, including the Grand Prize winner. On March 19, 32 teams advance. Each submits a five-page business plan and is assigned a time for Q&A with judges between March 19 and April 8. On April 9, eight finalists advance and pitch in real time to judges April 9-13. On April 14, we announce the winners.
See the complete schedule here.
Watch the website here to see which teams advance.
Prizes
Grand Prize
$40,000
Second Place
$25,000
Third Place
$15,000
Honorable Mentions (5)
$2,500 each
 
Sly Innovation Award
$2,500
 
Investor Challenge
First Place
$2,500
Second Place
$1,500
Third Place
$1,000
For more information: neeley.tcu.edu/vandv