In a new Harvard Business Review article, TCU Neeley Associate Professor of Professional Practice in Marketing Lance A. Bettencourt offers insight for creating hard-to-imitate strategies in the personal transformation space.
January 21, 2022
By Rachel Stowe Master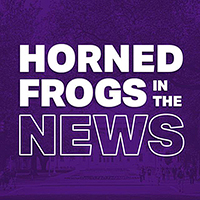 When companies define success by the quality or usability of their product or service, they are missing an opportunity. The real competitive advantage comes from providing solutions that create customer success.
"Customer success is about the customer trying to accomplish their goals, and that relies not just on one company's solution but also on many other solutions they might have to cobble together on their own. The struggle for companies is to take the focus off what they offer and really look at success from end to end from the customer's perspective," said Lance A. Bettencourt, associate professor of professional practice in marketing at the TCU Neeley School of Business and the lead author of "The New You Business: How To Compete on Personal Transformations," published in the January-February issue of the prestigious Harvard Business Review.
"I write so that it can make a difference. An article published in an outlet like Harvard Business Review — because of its credibility and broad exposure to an executive audience — stands a much greater chance of actually shaping industry practice, so that makes it a very, very big deal," he said.
The article builds on the foundation of the "customer jobs-to-be-done" work that has anchored Bettencourt's writing and consulting for the past 15-plus years. Jobs to be done refers to what a customer hopes to accomplish.
"My first Harvard Business Review article in 2008 was about the methodology of how to gain insights into customer jobs to be done. This article is more about how you use those insights to create a unique, competitive strategy — in this case in the space of personal transformation," he said. 
In the transformation business, companies partner with consumers to improve a fundamental aspect of their lives — to achieve a "new you," the article explains. The authors share their three-step process to discover what customers would consider a successful transformation: Determine what customers want to achieve. Understand how customers define success at every stage. Identify the barriers and how to help customers overcome them.
From there, companies can create a transformation offering using some or all of five approaches: integrating solutions, engaging each customer as an essential partner, providing customized support, supporting the full range of jobs to be done and charging for outcomes.
"The challenges are getting beyond your product to truly think about success from the customer's perspective and then recognizing that the things you offer today probably aren't enough, so you need to figure out how to create a complete solution and that may require partnerships," Bettencourt said.
"The advantages are if you can step back and look at the end-to-end perspective from the customer, you will have a richer, deeper and broader understanding of customer needs to guide the solutions you put out in the marketplace, and that will set you apart. Integrating a transformation business model is difficult to do right — but that's also what makes it difficult for competitors to copy," he added.
The article is Bettencourt's first collaboration with co-authors Joe Pine and Jim Gilmore, co-founders of Strategic Horizons LLP, and Dave Norton, founder of Stone Mantel. Bettencourt was familiar with Pine and Gilmore's well-known book, The Experience Economy, and thought his expertise in customer success could provide a nice complement.
"I realized we had some really compatible experience and interests and the combination of those would be more valuable than their separate parts, so I reached out to Joe. What resonated with Joe was the focus on customer success. He realized they were missing that part," Bettencourt said.
Read the Harvard Business Review article featuring Bettencourt here.