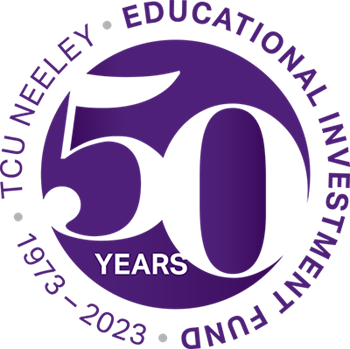 Established by the William C. Conner Foundation, the TCU Neeley Educational Investment Fund has been leading the way for 50 years, developing talented professionals prepared to break new ground through innovation.
In recognition of the 50th anniversary, the Educational Investment Fund will host a special anniversary celebration to commemorate this milestone achievement.
Friday, October 27, 2023
6:00 – 8:00 p.m.
Dee J. Kelly Alumni & Visitors Center
TCU Campus
Registration for this event is now closed. To be placed on a waiting list, please contact Debra Proctor at d.proctor@tcu.edu.
Photo Submissions
As part of our celebration, we are collecting past photos from your time in the Educational Investment Fund to showcase at the event. Please upload any photos you would like to share for the event.