The TCU Neeley School of Business launches high school outreach program designed to increase diverse business majors.
August 17, 2021
By Nicholas Ferrandino
This summer, the TCU Neeley School of Business, in partnership with the National Association of Black Accountants, Inc. (NABA), hosted its first Accounting Career Awareness Program (ACAP).
Founded in 1969, NABA is a non-profit organization which aims to provide new and valuable opportunities for Black professionals and other underrepresented minority groups in the fields of accounting, finance and business.
Ann Tasby, director of the Office of Inclusive Excellence at the TCU Neeley School of Business, served as the faculty advisor in forming the NABA student chapter at TCU, which acted as the driving force for bringing ACAP to TCU. Tasby has been a full-time NABA member for more than 20 years and is excited about the new opportunities this partnership will foster.
"I have been affiliated with NABA for the bulk of my entire career," Tasby said. "I was delighted to act as the founding faculty advisor for the organization's student chapter at TCU as well as the liaison for ACAP."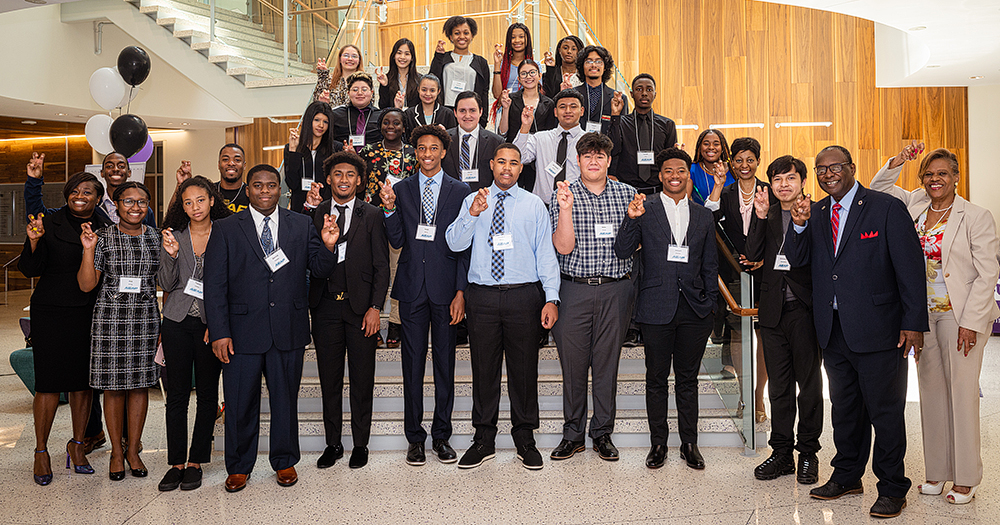 ACAP is one of NABA's most successful initiatives, growing exponentially in both scope and scale since the beginning. First launched in 1980 to give high school students a head start in their pursuit toward a career in accounting, ACAP has since become a nationwide collaboration partnered with universities all across the nation.
The program is designed to provide high school students in underrepresented communities with the opportunity to learn about career opportunities in accounting and other business fields, along with opening the door to resources that will help students with and beyond the college experience.
Due to the ongoing pandemic, ACAP was delivered in a hybrid format this summer that incorporated a TCU on-campus experience along with online content. The essential feel of the college experience that awaits them created palpable excitement. The post-pandemic plan is to host students on campus for the entire week of the program in a residency camp format.
Throughout the ACAP curriculum, students interacted with and learned from TCU professors, speakers and group project advisors representing some of the most successful accounting firms such as KPMG, EY and RSM, and Fortune 500 companies such as Amazon and Hewlett Packard Enterprise.
"The whole point of the program is not just to provide exposure to accounting and business curriculum, but also to create this pathway and passion for pursuing those avenues as a career option," Tasby said.
Students also completed a capstone group project where they worked together to conceptualize new businesses that address a market need and develop the related business plan. At the end of the program, these teams presented their case to a panel of judges to compete for a monetary prize.
ACAP aims to support students well beyond the scope of the one-week program, helping them achieve their goals with every resource at their disposal.
Graduates of the program are eligible for scholarships offered by both NABA and TCU to aid them in their journey to obtain the education they desire. The program also connects each student with a mentor who will assist them throughout their college career.
Launching ACAP at TCU in the midst of an ongoing pandemic was made possible with the assistance of several different groups.
TCU's College Advising Corps along with the admissions office helped promote the program across the Dallas/Fort Worth area all the way to Houston in order to recruit the best and brightest students for ACAP's inaugural year at TCU. Through this collaborative effort, 40 students of color with an average 3.65 GPA had the opportunity to participate in this year's program.
"It was this wonderful cross-campus collaboration that made the ACAP program at TCU so successful," Tasby said.
While academic requirements for the program are high, participation in ACAP is completely free for students. This is made possible by the Neeley Board of Advisors and other corporate partners whose funding covers operational costs for the program, along with payment for tuition, books, room and board, and all other student expenses associated with the program.
Learn more about ACAP at TCU here.